MF tries stunt driving
By Max Anderton published
Watch MF's Max Anderton try out some advanced driving techniques with stunt driver Terry Grant.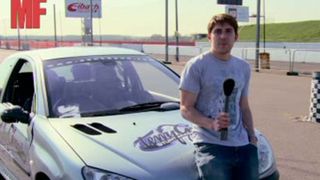 (Image credit: Unknown)
Santa Pod Raceway is famous for having the longest drag racing strip in Europe and has played host to some of the world's best drivers over the years. MF was lucky enough to be invited to the track to celebrate the launch of Ridge Racer Unbounded and have a go at learning some advanced driving manoeuvres with legendary British stunt-driver Terry Grant.
Grant holds 17 driving-related world records including the tightest J-turn ever made and has even invented a load of crazy car tricks of his own. He capped off the day with MF in spectacular style by smashing through a caravan then purposely flipping his car to crash land upside down. Once he'd dusted himself down, Grant spoke with us about his death-defying career choice:
Do you need to stay in shape to be a good stunt driver?
Yeah, I have to exercise regularly to prevent injuries. We have a fitness regime similar to F1 drivers, but not quite as harsh as we don't drive for nearly as long as they do.
What does your training programme consist of?
I hit the gym four to five times a week, but I have to be careful not to over exert myself and get injured as it really limits what I can do with my driving. My neck and the back are the areas I focus on strengthening the most. Core strength is also key for preventing injuries caused by sudden jolts and jerks.
How do you physically prepare yourself to crash cars?
If I'm doing a crash like the one at the end of the video where I go through the caravan and roll the car over, I have to do certain things to make sure I don't get hurt, like regulating my breathing. In those sorts of situations people tend to naturally hold their breath, when I showed you how to do handbrake turns and donuts you were doing it, probably without even realising it. I have to make sure I don't do that so I'm as loose and relaxed as possible in case of an accident.
What are the worst injuries you've suffered while stunt-driving?
I've been fairly lucky with injuries, the things I've broken most are my wrists – my right one four times and my left one three times. Most of the other injuries I pick up are just bangs, bruises, and cuts. I've had a few fractures – ribs, my thumb, things like that, but nothing major thankfully.
Why have you broken your wrists so many times?
Landing jumps, doing sudden stops and rolling cars creates some serious jolts all of which get transferred from the steering wheel to my wrists. Rolling cars is particularly problematic but as you saw just then it can be done safely if in a controlled environment.
What are the scariest stunts you've performed?
I've done the loop-the-loop many times and it still scares me. It's a three story high Hot Wheels loop with no safety nets – very dangerous, but once mastered it became one of the most enjoyable stunts to do. It's a case of mind over matter really, each time I approached it I would have an internal argument and a moment of doubt. But as you go through it the feeling is incredible.
How do you mentally prepare yourself for those kinds of stunts and ensure you win that internal argument?
Simple really, just stay calm and in total control of yourself! That might sounds obvious but unless you train to do that you just go into sheer panic. While working, I'm essentially in a car accident every five minutes but just have to forget the danger and concentrate on the task at hand.

Ridge Racer Unbounded (opens in new tab) is out now on PS3, 360 and PC.

For more interviews with men at the top of their game, get the magazine. Subscribe now and we'll give you five issues for £5. (opens in new tab)
Max was the head of digital content for Men's Fitness which worked alongside Coach between 2015 and 2019.
Sign up for workout ideas, training advice, the latest gear and more.
Thank you for signing up to Coach. You will receive a verification email shortly.
There was a problem. Please refresh the page and try again.