Fabio Studer's Freestyle Skiing Warm-Up Exercises
By Nick Hutchings last updated
Pro Fabio Studer shows you how to warm-up for freestyle skiing, before pulling off some incredible skills of his own at Nine Knights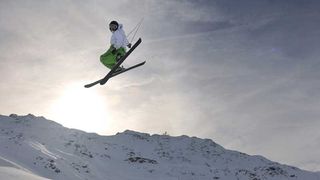 (Image credit: Unknown)
As one of Europe's best freestyle skiers, 28-year-old Austrian ripper Fabio Studer is a regular invitee to the super core Nine Knights ski and snowboard event that takes place every April in Livigno, Italy.
During the seven days Nine Knights runs for, skiers and snowboarders are given free reign to tear it up on a massive fantasy-themed park set-up – the castle – that features battlements, giant medieval weaponry and a vast array of yawning gap jumps, rails, hips and wallrides. This year also saw the inclusion of a mini-ramp on top of one of the features so skateboarders could get in on the action.
The daily sessions take place every afternoon, with special dawn and dusk jams so the photographers and videographers on hand can shoot in truly mesmerising light conditions. At the end of the week there are prizes given out for best tricks, overall performance, best photo and a bunch of other achievements the riders and organisers vote for.
In between castle runs, Studer – who trains hard and regularly to stay in shape for the demands of park and backcountry riding – took some time out to show aspiring freestyle skiers how to warm-up to go big in the park. He also demonstrated what to do if you see anyone exercising in the park when they should be skiing or snowboarding.
Nick Hutchings worked for Men's Fitness UK, which predated, and then shared a website with, Coach. Nick worked as digital editor from 2008 to 2011, head of content until 2014, and finally editor-in-chief until 2015.
Sign up for workout ideas, training advice, the latest gear and more.
Thank you for signing up to Coach. You will receive a verification email shortly.
There was a problem. Please refresh the page and try again.