Why You Should Play Basketball
By Steve Brenner published
British NBA star Luol Deng explains why you should be playing basketball, and how you can get into it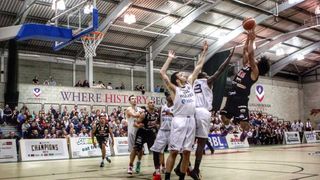 (Image credit: Unknown)
'I started playing when I lived in Egypt as a kid. We had moved there from Sudan to escape the civil war and my brothers and I taught each other to play. We were also coached by former NBA player Manute Bol, who was living there at the time – any help you can get from pros will help your development for sure.
'If you want to make progress, training your lower body is vital for strength and stabilisation. Tendinitis is a recurring problem for many players. There is so much jumping and pressure put on your knees, squats and lunges are key. A lot of kids try to work a lot on their upper body – mainly for looks – but even though basketball is a game where you use your hands, it really is 80% lower-body. Core strength is important in any sport but be mindful that your leg muscles are taking all the impact. Naturally, the weaker your legs are , the more impact you will take.
'I rely on the games during the season to provide me with my cardio workouts rather than spend hours on a treadmill. But I do interval running on my own – I'll do 30 second sprint intervals in a park to get my heart rate up. I build it up , sprinting for a minute and then two minutes with breaks in between. I've led the NBA in minutes played before, so it works for me.
'You need to practise handling the ball, shooting and dribbling but having good footwork is one of the most important things, and interval running will help give you a change of speed to get away from people or into a space on the court where you're able to pass to a team-mate. The best thing people starting out can do is watch the game a lot more. Study it and see how the team plays, how the players interact with each other, what the right positions to get in are.
'When you play, one-on-one is fun and of course you're constantly involved, but a full game will help you establish a team ethic, knowing where people are, how to pick a pass, where to attack from. You get a better cardio workout playing five on five too.
'Scoring's what it's all about. Be creative when you practise shooting. Don't stand in the same spot. Mix it up and move around as you would do in a game. The variety will help you understand where your strengths and weaknesses are. You might find lay-ups come easier than shooting for three points all the time, although they might be less dramatic.'
The skill: Vertical jump
The vertical jump is an explosive movement that involves strength and power. The three best exercises for improving it are squats (for strength), hang cleans (for power) and box jumps (for explosive power). 'All three components will make you a much better basketball player,' says Miami Heat strength and conditioning coach Bill Foran. 'As you improve your vertical jump, you will also increase your speed.'
Workout
1. Squat
Sets 3-4 Reps 6-8 reps
2. Hang clean
Sets 3-4 Reps 4-6 reps
3. Box jump
Sets 2-3 Reps 8-10
WHERE TO PLAY
The UK's best basketball venues
The John Amaechi Centre, Manchester
This centre runs some of the most popular programmes in the country and is the owner of the Five Star Standard Award from England Basketball which recognised its benefits to the sport, ranging from player development to coach education.
amaechibasketball.com (opens in new tab)
Community Sports Arena, Leicester
The state-of-the-art £4.5 million multi-purpose Leicester Community Sports Arena is home to BBL side Leicester Riders and has become a regional basketball centre of excellence as well as serving as a large multi-use sports venue.
leicesterriders.co.uk (opens in new tab)
The Luol Deng Academy, London
Deng's centre in Brixton is a basketball school of excellence launched in partnership with Nike, Evelyn Grace Academy (EGA) and Reforming Black Britain, aiming to produce elite basketball players to feed into the Brixton Topcats basketball club. The core teachings on offer aim to replicate the training methods that Luol Deng went through in his path to NBA stardom.
luoldeng.org (opens in new tab)
KIT TO UP YOUR B-BALL GAME
A fantastic piece of kit which puts your arm in the perfect position to start unleashing three pointers from all over the court. It helps build muscle memory while training your arm to let fly with the correct amount of movement.
jumpusa.com (opens in new tab)
The Bee-Ball ZY-022 Wall Mounted Backboard and Flex Ring
Perfect for everyone from beginners to NBA ballers, this durable, professional-looking hoop is easy to attach and can be placed anywhere. Essential for helping develop and hone all the skills needed to impress at game time.
basketballequipmentshop.co.uk (opens in new tab)
NBA Platinum Street Ball Basketball
A classic ball which gives not only excellent grip but also improved control thanks to the best rubber compound around. Authentic and long-lasting.
basketballequipmentshop.co.uk
Sign up for workout ideas, training advice, the latest gear and more.
Thank you for signing up to Coach. You will receive a verification email shortly.
There was a problem. Please refresh the page and try again.