How to conquer the CrossFit Open
By Sam Rider published
The 2008 CrossFit Games winner Jason Khalipa reveals what it takes to earn 'Fittest Man On Earth' status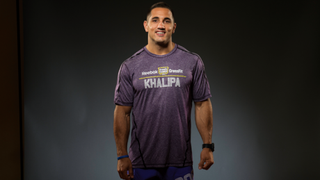 (Image credit: Unknown)
The door to the 2015 CrossFit Games is open. The first of several workouts to qualify through the CrossFit Open has been announced (a simple nine-minute AMRAP of 15 toes-to-bar, ten deadlifts and five snatches followed by a one-rep max clean and jerk). Get through the Open and then the Regionals and you'll have the chance to compete for four-time winner Rich Froning's 'Fittest Man On Earth' mantle in California this July. But how hard do you have to train if you realistically want to win it? Here's how 2008 winner, and last year's third place finisher, Jason Khalipa typically trains on a 'deload' day. So much for overtraining.
WORKOUT 1: 40MIN CARDIO ENDURANCE
Airdyne @ 80% of max effort for eight minutes
Airdyne @ 100% of max effort for one minute
Rest for one minute
Alternate burning 20 calories on a rowing machine every minute on the minute (EMOM) with burning 15 calories on a ski-erg for 20 minutes
15 burpees EMOM for ten minutes
WORKOUT 2: LOWER BACK STRENGTH
185kg deficit deadlift (with feet raised on a low platform to focus on working your hamstrings and posterior chain). Sets 10. Reps 3.
He's not done yet. Keep reading below.
WORKOUT 3: SKILL WORK
Row 100m
Handstand walk 15m
Sets 10
50 burpee penalty if you fall on the handstand walks - 'I made sure I didn't fall,' says Khalipa.
WORKOUT 4: METABOLIC CONDITIONING
4 rounds
10 pull-ups
10 45kg thrusters
A good time? 'Under three minutes,' says Khalipa.
Sam Rider is an experienced freelance journalist, specialising in health, fitness and wellness. For over a decade he's reported on Olympic Games, CrossFit Games and World Cups, and quizzed luminaries of elite sport, nutrition and strength and conditioning. Sam is also a REPS level 3 qualified personal trainer, online coach and founder of Your Daily Fix (opens in new tab). Sam is also Coach's designated reviewer of massage guns and fitness mirrors.
Sign up for workout ideas, training advice, the latest gear and more.
Thank you for signing up to Coach. You will receive a verification email shortly.
There was a problem. Please refresh the page and try again.