Shaun White
By Coach Staff published
Here's footage of the 2006 Winter Olympics Superpipe champion and an exclusive interview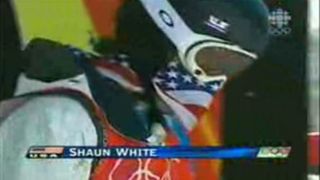 (Image credit: Unknown)
What keeps you pumped on snowboarding?
I stay motivated because I switch between skating and snowboarding. I compete on one circuit then, during the down time, compete on the other. I'm also excited about defending my Olympic gold medal. It seems like only yesterday that I won it, but two years have passed, and I'm about to start training for the next one (2010 in Vancouver).

What's your advice to novice riders who are desperate to learn the massive spins they've seen you pulling at the X-Games?
You'll get more from your riding if you focus on the basics. My favourite trick is still just a humble 360°. The same applies to the pipe, you don't need to spin to enjoy it. Just getting airborne is an amazing feeling.
How much difference can off-board physical fitness training make to a professional snowboarder?
I never go to the gym. I think elite snowboarding requires you to have certain innate physical characteristics and a type of fitness that develops the more you ride. You need to be strong, agile and have good reactions but a lot of it is mental. You have to be able to convince yourself that can make the trick you're trying.
You've got a new snowboarding computer game out – Shaun White Snowboarding. What makes it so good?
You can ride loads of different terrain and the game has an amazing feeling of freedom.

How much of a role did you pay in the development of it?
Tons. I don't like putting my name on anything that I'm not heavily involved with. During the making of the game I'd regularly meet up with the programmers and give them my input.

Do you think playing it can help you become a better snowboarder?
Not physically, but you'll learn what the tricks look like and get some insight into the culture.

Snowboarders have a rep for partying like there's no tomorrow, is it deserved?
I don't know if we party harder than other sportsmen. I'd rather go to bed and beat everyone in a comp the next day than party all the time, but that's just me.
What's the weirdest situation your fame has got you into?
I was in this town, and people kept coming up to me and asking if I worked at the local Ralph's (an American supermarket chain) because there was a guy behind the counter who looked like me. He ended up using that to get backstage at a Red Hot Chili Peppers concert and hang out with the band!

What's been your scariest onboard moment?
I was skating a vert ramp with another skater, we collided in mid air and I broke my foot, hand, and fractured my skull. I don't remember any of it. The first thing I can recall after the accident was waking up in the hospital and my mum immediately trying to force feed me McDonalds.

There seems to be be a bit of a sheep mentality where snowboard fashion is concerned
Yeah. One of my pro friends started wearing a sweatshirt with one sleeve cut off to see if kids would copy him. They did.

Ubisoft's Shaun White Snowboarding (opens in new tab) game is out on 16 November.
Coach is the place to come for all your health, fitness, and personal wellness needs.
Sign up for workout ideas, training advice, the latest gear and more.
Thank you for signing up to Coach. You will receive a verification email shortly.
There was a problem. Please refresh the page and try again.