Cycling Power Workout
By Max Anderton last updated
Boost your cycle power and endurance with this bodyweight leg workout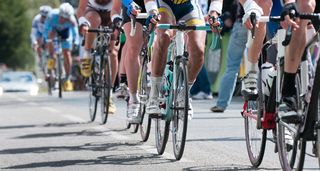 (Image credit: Unknown)
No matter your level of experience, cycling ability can always be improved by doing some off the bike training. Here, coach Simon Ward reveals the exercises you can do to improve your cycling power.
The coach
Simon Ward has helped more than 200 triathletes complete Ironman events. He's also a strength and conditioning specialist. See thetriathloncoach.com (opens in new tab).
The goal
"In cycling, strength alone isn't much use," says Ward. "You need power endurance to pedal hard for a long duration. Because your legs are used to support your bodyweight, it's difficult to develop leg strength and power without additional load. That doesn't mean it's impossible – you just need to be creative."
This workout uses high reps to mimic a long period of hard pedalling. With every move other than the burpee, ensure that the lowering phase takes two seconds.
The Workout
Do the moves one after the other with 60-75 seconds' rest between sets. Start with the beginner amount of sets and reps. Once these are no longer pushing you to your limit, move up to the next level.
Jumping lunge
Start in a deep lunge position.
Jump into the air, switching your front and back legs.
Land back in a deep lunge.
As you improve, work on transitioning smoothly between jumps.
Levels
Beginner 2x10 singles
Intermediate 2x10 continuous
Advanced 3x10 continuous
Burpee
Begin in a standing position with your feet shoulder-width apart.
Crouch down, put your hands on the floor and kick your feet back until you're in a press-up position.
Reverse the movement and finish with a jump, clapping your hands overhead.
Levels
Beginner 2x10
Intermediate 2x15
Advanced 3x20
Jump squat
Begin with your feet shoulder-width apart.
Squat until your hips are just above knee height.
Drive upwards and jump clear off the floor.
Soften your knees on landing and reset between jumps.
Levels
Beginner 2x10 singles
Intermediate 2x10 continuous
Advanced 3x10 continuous
Step-up and knee drive
Place your right foot on a box set at a height that means your knee is level with your hip and your thigh is parallel to the floor.
Push up from the box and straighten your right leg. Raise your left knee until your left thigh is parallel to the floor.
Lower your left leg until you are standing on the box with both feet together.
Step off the box by lowering your right foot slowly to the floor. Repeat on the other leg.
Levels
Beginner 2x20 singles
Intermediate 2x20 continuous
Advanced 3x20 continuous
Max was the head of digital content for Men's Fitness which worked alongside Coach between 2015 and 2019.
Sign up for workout ideas, training advice, the latest gear and more.
Thank you for signing up to Coach. You will receive a verification email shortly.
There was a problem. Please refresh the page and try again.