Alan Fairclough remembered
By Joel Snape published
Alan Fairclough, the highly respected head coach at the Adlington Barbell club, died on 20th March 2013. In tribute, here is MF's 2009 feature about Alan and the club.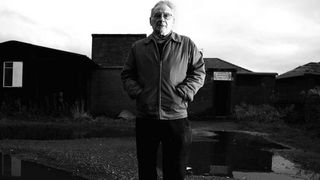 (Image credit: unknown)
In 2008, MF visited one of Britain's finest gyms, Adlington Barbell in Lancashire, to meet the men who ran it and worked out there according to old-school values. Sadly Alan Fairclough, the club's venerated manager and coach, died on 20th March. In memory of Alan, a mentor to some of Britain's best lifters including World's Strongest Man competitor Mark Felix, here's our feature on Adlington Barbell from the January/February 2009 issue of MF.
There are certain things your gym probably frowns upon. Grunting? Maybe. Screaming? Almost definitely. Chalking up your hands, talcing up your thighs and dropping a 200kg barbell on the floor from above your head? You'd be asked to leave and never come back. Maybe that's why you're reluctant to go – research from consumer analyst Mintel shows that 15 per cent of people paying membership fees visit less than once a week, and three per cent go less than twice a year. Maybe you're training in the wrong place.

Traditional values
Adlington Barbell Club, for instance, is the sort of gym where grunting is actively encouraged. One of the UK's oldest gyms and one of the best, it consistently turns out powerlifting and strongman champions as well as helping the locals stay as strong as gorillas.

In fairness, this isn't a gym you're likely to just stumble across. It's in a town where the train station has no staff, at the end of a street that has no paving, in a brick building that looks like a bomb shelter. It doesn't have a Bosu ball, a PowerPlate or any treadmills: just row after row of heavy weights covered in scuff marks and chalk fingerprints. It doesn't have personal trainers flirting with clients, or sales people buzzing around trying to sign up customers, just 72-year-old resident coach Alan Fairclough, who's been running the club since he and his brother Gerry started lifting in the 1950s. In the early days, the pair trained in their front room. 'That stopped when we let a weight go and the gramophone jumped off the table,' Gerry recalls.

In the 1960s, the club moved to its current premises. Alan points out a picture from that era of him with another man. 'You probably recognise him, don't you?' he says. MF, sadly, doesn't. 'Darth Vader?' prompts Alan. As it turns out, Dave Prowse – former Dark Lord of the Sith and Green Cross Code man – used to be Gerry's rubdown partner during competitions, an experience that's clearly left a lasting impression. 'He used to scour me with a towel,' recalls Gerry. 'I'd say, "Steady on, you've taken my bloody skin off!"'

In the 1970s, the brothers built an extension on what is now the machine room so that the Olympic weightlifting squad wouldn't break the floor. 'It's concrete, built up with rubber and wood for another six inches,' says Alan. 'God knows what weight's hitting it.' They put a shower in as well, but nobody really sweats that much – there isn't any heating.

Heavy metal
In Adlington, workouts tend to be simple. Most members focus on one of the big three powerlifts – squat, bench press and deadlift – or the two classic 'Olympic' lifts – the clean and jerk and the snatch. You might catch someone in the corner doing a dumb-bell curl or a bent-over row, but lateral raises are out – there's barely a weight in the club light enough to do them with. People come in, do a couple of warm-up sets, then pile roughly three times their own bodyweight on the bar for the proper work. Often, everyone else stops what they're doing and watches or shouts.

On the back wall is a whiteboard where members scribble their personal bests, and opposite is a noticeboard listing the club records. Chalk is essential, and talc – to reduce friction if a bar scrapes against a limb – is encouraged. Nobody bats an eyelid as Joe Bullock, lightweight squat Commonwealth record holder, squeezes himself into a pair of rubber squat shorts and tugs knee wraps tight around his freshly powdered legs.
'Twenty years ago there was probably a gym like this in every town in the country,' says Bullock. 'Now you go to a commercial gym, you've got bodybuilders, running machines, everyone doing something different, ignoring each other. It's not the same.'

Bullock used to manage a branch of Bannatyne's, the upmarket gym chain run by Duncan Bannatyne from BBC TV show Dragons' Den. Now he puts his wraps on twice a week – 'your legs go numb after a minute or so' – and regularly squats over 300kg. As MF watches, he squeezes out five sets of three reps in less time than it took to put his lifting gear on, and starts peeling the wraps off again. He's barely broken a sweat, but he's shifted the weight of a medium-sized family car. 'It's the old-fashioned way, the best way,' says Alan's son John Lee, who's been lifting since he was 13. 'I've been to modern gyms, but the exercises are... how can I put it? They're made easy. Lifting weights isn't supposed to be easy. You're never going to get strong using machines.'

Chalk is cheap
It might not be easy, but at least training at Adlington isn't too pricy. Sessions cost £2. Regulars get a key so they can train whenever they want, but nobody really bothers to turn up outside of the regular Monday and Wednesday meets. There's no point.

'If you come in on a Saturday when it's empty, it's an awful place,' says Pete Ratcliffe, known to everyone as Fat Pete and holder of the British Masters record for the squat, with 322.5kg. 'There's nothing to it. But once the crowd arrives, there's nowhere better. It's fabulous,' he grins.

It may not sound like the shrewdest business model, but, as Alan cheerfully admits, the club wasn't set up to turn a profit. 'There's no money in this game. You can't fit enough people in, you need the space. If you're in a gym, you can fill it with machines and have two dozen people in – there's no chance of getting hurt. Here, we've got to have enough room for movement, because when someone's jerking 400kg above their head, you don't always know what's going to happen.'

Nevertheless, the club does OK. Members take care of expenses – a sign on the wall suggests that 'regular chalk users' consider contributing £1.50 to the chalk fund – and local businessman 'Handsome' Fred Smith helps out if things ever get really dire. 'He's very good for the club,' admits Alan, who's been training with Smith for more than 50 years. 'If we ever needed anything – which we don't – he'd help us out. One year, we had bad times and he said, "Oh, I'll pay the expenses for this year."' Smith, incidentally, benches 153kg. He's 68.
Strength to strength
Adlington does well in seniors or 'Masters' weightlifting competition – events that have divisions for lifters over 40, 50 or 60 years old – but it also attracts a younger crowd. Shawn Kenny, who recently came fifth in the UK's Strongest Man competition, regularly visits the club to work on his technique. Valerie Baxter won a gold medal for the squat at the women's powerlifting championships in Palm Springs, and is working on her bench technique to give her a shot at winning the next event overall – she makes the hour-long commute from Manchester two or three times a week.

People travel to Adlington for a simple reason: to train with Alan. 'He has a tremendous potential to read your abilities,' says Smith. 'He knows what his lifters can achieve better than they do.' Ratcliffe agrees. 'You come here and Alan watches you – how you squat, how you walk out, what weights you pick, what rest you take. And then he knows what you can do. He'll say, "Well, you're doing this wrong, this wrong, this wrong and this wrong." I was a bit deflated, but he just said "Oh, don't worry, we'll sort it out." Every so often you go off course and get a blast from the side, but it's worth it. He can watch you do a weight and he knows what you're capable of – I don't know how he knows, he just does. But he'll never give you a weight you can't do. It gives you a certain confidence.'

Alan is more modest, putting improvements down to the standard set by the regulars. 'It's the environment we create. Success breeds success,' he says. 'If you go to a club and see a lad squatting 400kg then beginners set higher targets. What creates champions is feeding off each other. Everybody helps each other.'

Fitness friendship
The atmosphere of camaraderie comes across in YouTube videos posted by the regulars, in which Fat Pete, Bullock and Steve 'The Turnermator' Turner shift jaw-dropping amounts of metal at the regular club competitions. Dingy as the club might look, the videos serve as excellent promotional material. 'We've got one bloke, called Jonathan Chevalier, who comes over from France,' says Alan, who appears in one clip power-cleaning a 60kg bar. 'He saw us on the internet and came to one of the club dos. He said he'd never seen a place like it.'

Newcomers are welcomed, and despite the testosterone-heavy atmosphere, there's nothing intimidating about the gym – Alan regularly breaks off from chatting to MF to give one of the skinnier members pointers on technique, and happily shares tips on how to improve our own woeful push-press. 'Everyone wants everyone else to succeed,' says Ratcliffe. 'Because if they do better, that pushes the rest of us.'

For MF, accustomed to going in gyms with aromatherapy rooms and tanning booths, where the only screaming ever heard is from staff who spot you chalking up, Adlington is like a workout paradise. It makes us want to spit on our hands and squat heavy, to swap triceps kickbacks for power cleans. It makes us want to buy a singlet.

Adlington doesn't seem to be going anywhere, but what if it did? Would the regulars retreat to the gyms they all have in sheds and garages? Or would they get a membership to Fitness First? No way, says Fat Pete. 'They don't want people like me in there, and I don't want to go. This is a little piece of heaven.' He glances around at the toilet, the shower, and the taped-together punchbag. 'Although I always thought heaven'd be a bit cleaner.'
From 2008 to 2018, Joel worked for Men's Fitness, which predated, and then shared a website with, Coach. Though he spent years running the hills of Bath, he's since ditched his trainers for a succession of Converse high-tops, since they're better suited to his love of pulling vans, lifting cars, and hefting logs in a succession of strongman competitions.
Sign up for workout ideas, training advice, the latest gear and more.
Thank you for signing up to Coach. You will receive a verification email shortly.
There was a problem. Please refresh the page and try again.