MF meets the Wigan Warriors fullback Sam Tomkins
By Max Anderton last updated
Rugby league star Sam Tomkins talks about his brutal training and scoring while being unconscious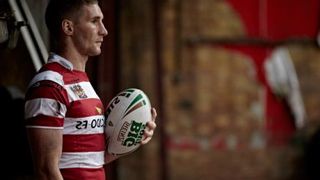 (Image credit: unknown)
You star in The Rugby League of the Extraordinary video (below), which shows off the incredible power and agility of Rugby League players. What kind of training do you do to develop those attributes?
Most of the work we do on power and speed takes place in the gym. We make big gains pre-season thanks to Wigan's conditioning coach, Mark Dixon, working with us from November until the first game in February. Agility is something we work on all year round but it also has a massive part to play in the three months leading up to the start of a season.
What exercises and drills do you focus on in the gym?
We do a lot of big compound exercises that replicate the moves we make in rugby, such as hang cleans, squat jumps and deadlifts.
What aspect of your training sessions do you find the toughest?
Probably the hill sessions we have to do a couple of times a week pre-season. They're usually 40 minutes of going up steep hills in horrific weather – great for improving stamina but seriously unfun.
What's the best bit of training advice you've been given?
Go as hard as you can at all times. Every session counts and if you don't give it your all, even just once, it could cost you in the end.
Do you follow a specific diet plan?
I'm quite lucky, so I don't need to be too strict. I take supplements and eat reasonably well – plenty of protein and fresh fruit and veg, that sort of thing. About once a week I grab a takeaway straight after a game, either to celebrate or commiserate.
What do you do to motivate yourself before a big game?
I think about picking up trophies at the end of the season. As a team, we get up for games by focusing on the end of the year. The grand final is where we want to get to, so we do whatever we can in every game to make sure that happens.
In 2011, you famously scored a try just after being knocked out cold. What do you remember from the incident?
Not too much, as you would imagine! I dived for the line, got hit in the face and luckily was still holding the ball when I landed unconscious. I felt pretty groggy for a few days after that - it was like having a three-day hangover.
What was your personal highlight of last season?
Winning the Challenge Cup. It's always amazing to play at Wembley – I'd played there once before with Wigan and once for England against Australia, and it's always a really important place to play. Wigan hadn't won the Challenge Cup for many years, yet in the 1990s it was sort of considered Wigan's trophy, so to win it at Wembley was a big achievement.
To find out more about 'The Rugby League of the Extraordinary' visit extraordinaryrugby.com (opens in new tab)

For more interviews with athletes at the top of their game, subscribe to MF - we'll give you five issues for £5. (opens in new tab)
Download a digital version of the latest issue from iTunes. (opens in new tab)
Max was the head of digital content for Men's Fitness which worked alongside Coach between 2015 and 2019.
Sign up for workout ideas, training advice, the latest gear and more.
Thank you for signing up to Coach. You will receive a verification email shortly.
There was a problem. Please refresh the page and try again.