MF meets Adam Gemili
By Sam Rider published
The new man on the British sprinting scene has a few things on his mind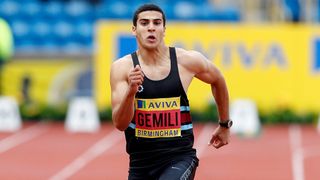 (Image credit: unknown)
A former Chelsea youth team footballer, 18-year-old Adam Gemili dedicated himself to athletics at the start of 2012 and has gone on to enjoy a hugely successful sprint seasons. After setting the 100m world junior championships record at 10.05sec, he ran the second fastest 200m by a British junior in 20.53sec at the Diamond League meeting in Birmingham in August. Sandwiched between those two seminal moments in his fledging career Gemili competed for Team GB at the London Games and finished third in his 100m semi-final, narrowly missing out on a place in the final.

This autumn he's taking another big step – beginning his first year at university. Although he's now facing the extra challenge of combining training with studying, the ambitious 18-year-old has his sights firmly on breaking more records and mixing it with the best in the business. Here are a few things that were on his mind when we caught up with him recently.

Every sprinter sees 9.58sec as the goal
Everyone wants to break that. Usain Bolt has set the standard. If you ask any sprinter they'll say they want to have a career like his. I'm not trying to beat anyone else specifically. Obviously Bolt has run the number one time but if you get caught up with other athletes you can get distracted from your own ability.
In the semi-finals of the Olympics I had a really, really bad start
I was last after about 20m and I had to pick it up. I knew the last part of my race is the stronger part. After that start I was quite… I don't want to say lucky… but I was grateful I came third in 10.06sec because I didn't expect to do well. When I crossed the line I thought I had got fifth or sixth so when I saw the result on the big screen I was pleased with that.

Being on those starting blocks in the Olympic Stadium was the best feeling in the world
Every British athlete will tell you the crowd was amazing. Everyone heard their name being cheered out. They really did help. For me personally, watching that Saturday when Greg [Rutherford], Jess [Ennis] and Mo [Farah] won their golds back to back was very emotional. We were all one team and it was great to see them all be so successful.

In January I had to make the decision between football and athletics
Last year I went to the European junior championships and I came second. That made me think I could do something with the sport. After that I brushed it off and focused on football. But then I had a discussion with my parents about it. I wanted to see how far I could get and how well it could go. That led me to my decision at the start of the year.


I've had quite a few amazing moments this year
Going to the world juniors in Barcelona and becoming champion was probably the best feeling in my athletics career. That was amazing but then making the Olympic team was mad. It's so great to be able to go there to represent Great Britain and run in front of a crowd of 80,000 people all cheering your name.

The world junior championships were a big moment for me
Every top athlete competing now probably went to a world or European juniors and enjoyed it so it's a great stepping stone to help athletes progress to the senior level. To go there and win gives me great confidence to push on next year and try to do even better.

Every sprinter is different
Yes, there have been some British sprinters who haven't fulfilled their early promise – I don't know what happened in each situation but I know about my own career. I've got a great coach in Michael Afilaka, great team, great family and friends behind me and support group from UK Athletics and Aviva and all the guys I work with at Lee Valley. Having solid foundations is important. If I keep progressing as I am and make it slow and gradual I shouldn't have any problems going on to the seniors and doing well there.


To break ten seconds you just have to get that right race
This year if I had had the perfect race I think I could have gone under ten seconds but it wasn't to be. You need a good start to give you a chance and also the right wind conditions. If you have all the right factors working for you then it comes. But you want to get to a point when you can run consistently no matter what the wind or conditions are. I want to be at that level next year.

You do run sub tens in training but they don't matter
They don't mean anything in training. You want to do it in competition. I'm just waiting for the right competition to come along.

To find that consistency you've got to find what works for you
I have to train my muscles to work together correctly and get everything to click. It's important to find what you are comfortable with. Then you improve on it and improve on it.


Sprinters work on technique a lot because there are so many phases of a race
There is the start, the drive phase, the acceleration. You've got to keep yourself forward, keep yourself relaxed, get your knees high and toes up.
I've only just started to lift weights for sprinting this year
I'm not the biggest of athletes and I don't do too much because I'm still growing but you've obviously got to condition your muscles to do the training without getting injured.

Hamstrings are the most important muscles for sprinting
I do a lot of cleans – they really help develop your leg muscles and get your whole body to work well as a unit. I also do squats, snatches and bench presses but working on the hamstrings is so important. My peak clean weight is 115kg but we don't go for our max unless it's close to race time when you want to hit your peak.


To make big improvements in sprinting you've got to enjoy it
Being in this sport is not easy – nobody's going to hand you results on a silver platter. You've got to work hard, find the right coach and training group to help you get your technique right and then anything can happen.

Aviva has been backing British athletes and the GB & NI team for over 13 years. If you or your child want to get involved, find out more about the Aviva Athletics Academy at academy.uka.org.uk (opens in new tab)
Sam Rider is an experienced freelance journalist, specialising in health, fitness and wellness. For over a decade he's reported on Olympic Games, CrossFit Games and World Cups, and quizzed luminaries of elite sport, nutrition and strength and conditioning. Sam is also a REPS level 3 qualified personal trainer, online coach and founder of Your Daily Fix (opens in new tab). Sam is also Coach's designated reviewer of massage guns and fitness mirrors.
Sign up for workout ideas, training advice, the latest gear and more.
Thank you for signing up to Coach. You will receive a verification email shortly.
There was a problem. Please refresh the page and try again.