MF speaks to Team GB's David Weir
By Joe Warner published
Last year MF met Britain's Paralympic and world champion wheelchair racer to talk tactical racing, dealing with punctures and, of course, London 2012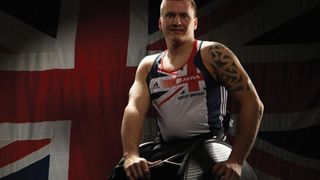 (Image credit: unknown)
What are your aims for the London Paralympics?
All I want is one gold medal. I don't think about winning more than that. Anything extra is a bonus. I've got a good chance of winning four but it's the Paralympics so everyone will be on top form. To win in front of a home crowd would be amazing.
A flat tyre cost you a fifth London Marathon win in 2010. How disappointed were you?
I was really disappointed and frustrated at the finish but I've since come to appreciate that finishing third despite two punctures was a great achievement. The front tyre went at 16 miles [26km] but because not much weight is on it I was fine coasting. But when the back tyre went there was nothing I could do except hope I had a big enough lead – I didn't. There's nothing I could have done. I haven't used those tyres since, though!
You won the New York City marathon in 2010. How did that victory compare to your successes in London?
It was a big tick on my to-do list. I came fifth in 2005 and I always wanted to go back and win it. It's a harder course than London: there are more hills and bridges to climb and it can be windier and colder, so it was great to win. Especially because I won by just one second, which showed how competitive the field was.
You compete in the 800m, 1,500m, 5,000m and marathon, and you used to do 400m too. How hard is it to train for such different events?
It's actually quite easy. In wheelchair racing speed is the key to success whatever the distance, because the final lap will almost always be a sprint finish. I started out as a sprinter so I've always been fast, but I've always liked the tactical element that's needed to succeed at longer distances – how you have to constantly evaluate and analyse what's going on around you.
What's a typical week's training?
Most mornings I'll do 15 to 20 miles [24-32km] and a couple of nights per week I'll be on the track doing Fartlek sessions, so 100m on then 100m off, or 350m on then 50m off, for up to 12 laps. It's intense so it's a hard session. When I'm in the gym it's mainly conditioning work with the medicine ball.
How tough would the average man find competing in a wheelchair race?
He wouldn't do very well at all! It takes a huge amount of power to get started and then it's all about technique. It's like swimming or cycling – if you haven't mastered the movement you'll get tired very quickly. Years ago a lot of people just assumed we woke up and just went out and did a marathon. They didn't realise that we train really hard, just like any other athlete. There is a far better understanding now.

For more interviews with top athletes, subscribe to MF - we'll give you five issues for £5. (opens in new tab)
Download a digital version of the latest issue from iTunes. (opens in new tab)
Joe Warner worked for Men's Fitness UK, which predated, and then shared a website with, Coach, from 2008 to 2013, then returned as editor of Men's Fitness UK from 2016 to 2019.
Sign up for workout ideas, training advice, the latest gear and more.
Thank you for signing up to Coach. You will receive a verification email shortly.
There was a problem. Please refresh the page and try again.