Jon-Allan Butterworth interview
By Michael Donlevy published
MF meets one of Britain's best hopes for cycling glory at the London 2012 Paralympic games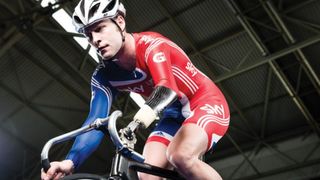 (Image credit: unknown)
'Pretty much every time I race on track I break the world record,' says Jon-Allan Butterworth in a matter-of-fact way. 'I used to get nervous before races, but at the world championships in LA this year I was last on track, because I was defending my title, and I knew I had to break the world record to win gold. I did it by three-tenths of a second, so I know I can perform in London.'

This self-confidence would be impressive from any cyclist on the eve of a major championship, but it's even more so when you consider that Butterworth is an ex-serviceman who lost a limb in Iraq and is on the verge of Paralympic glory – despite the fact that he only started cycling seriously three years ago. Don't be fooled into thinking that getting to the Paralympics is easy though.

'In the past, as the sport was growing, it was easier to fast-track a new athlete into medal-winning positions,' says Butterworth's head coach, Chris Furber, who's been involved with the para-cycling team since 2006. 'Now, the sport has grown exponentially. It's probably come on as far in the past four years as able-bodied cycling has in 12.'
Battle ready
Butterworth uses a bike that's been specially modified to allow him to ride with a prosthetic left arm. 'Our training is comparable to the GB Olympic team's,' he says. 'In some ways I'm working harder because I'm playing catch-up. And if there's a problem with my prosthetic arm, for example if I've changed weight and it doesn't fit, I can't train.'

That he's here at all is thanks to Battle Back, an adaptive sport and adventurous training programme from the MOD in partnership with Help For Heroes and the Royal British Legion. 'I went for a Paralympic taster day. I thought I'd be handing out leaflets or something but we were given tests, such as the shot put and static jumps. I didn't hear anything for a while and I took part in the first Help For Heroes bike ride in 2008. It was my first experience of a bike and also the first time I'd used clipless pedals. I kept falling off, so I thought, "Never again".

But then I was invited back to do a bike ride test by British Cycling and they saw potential. I was inspired by the Olympics in 2008 – watching the likes of Chris Hoy and Jason Kenny on the track. It looked exciting, and in 2009 I got a development team place.'
Maximum effort
Three years later, the training is as intense as you'd expect in the run-up to a major Games, with six days' hard effort and only one rest day per week. When MF speaks to Butterworth, he's recovering from a fortnight in which he logged 40 hours' work. And his recovery isn't helped by the fact that he could be competing in as many as in five events. 'Paralympians don't specialise, so I could be in the 1km time trial, 4km pursuit, team sprint, road time trial and road race. It means I don't get much time to recover or taper my training. I just have to cope with it.'

Training across various disciplines is brutal because it involves building both speed and endurance, and coaches employ a range of sessions to build both. These include training in a low gear and with high cadence to build strength, and cycling in a higher gear than in a race to develop torque. 'It also means I don't lift much weight in the gym. I used to for just the sprint, but too much lactic acid in the muscles hurts you in the pursuit,' Butterworth says.

He has had to adapt his workouts to allow for his prosthetic arm. 'I do a lot of core stability work with a gym ball, plus weighted crunches and raises. I can hold a weight in one hand and keep it in the middle for weighted exercises. Then I can do a side plank on the right-hand side but to replicate that on the left I carry a suitcase and step over high hurdles. We just have to find different ways to do the same job.'
Weapons from above
Butterworth's job five years ago was as an RAF weapons technician when he was injured in a rocket attack in Basra in 2007. 'The day started like any other. There was an early-warning siren and I hit the floor, but this time the noise was different. The rocket sounded like a sausage sizzling on a barbecue rather than the normal whistling sound. There was a dust cloud and I lost my hearing so I was disoriented, but I got up to move for cover. It was only when the dust cleared that I saw that the whole of my left side was covered in blood and my arm was hanging off.' He saved his own life by tying a tourniquet around the wound before being taken to a field hospital.

His mental fortitude served him well. 'I was drugged up and in and out of consciousness for five days. But I didn't really feel any pain and wasn't really conscious that my arm wasn't there. I called my wife and we had a normal conversation.' Butterworth reckons he's fortunate. 'I never suffered from depression. I've always had quite a logical mind so if, when I lost my arm, the choice was between seeing what good could come out of it or turning to drink and losing my job and my family, there was only one option,' he says. But sport certainly helped. 'I did three months at Headley Court, the Defence Medical Rehabilitation Centre, was signed off for six months and was then given a desk job. I was one of the first casualties in Iraq and they didn't really know what to do with me.' That's where Help For Heroes and Battle Back came in for Butterworth.

'In short, it's a sports and adventure training programme to help injured servicemen recover every step of the way,' says Martin Colclough, who worked on the Battle Back programme while he was still serving in the Army and now works full-time on the programme at Help For Heroes. The scheme uses adventure training and sports rehab to help the seriously injured gain confidence and return to an active life.
Professional help
Some of these men and women – such as Butterworth – go on to pursue a career in adaptive sports, but Battle Back is designed to help all those who have suffered injury and lost limbs in service. 'Help For Heroes has helped around 1,500 people through Battle Back,' says Colclough. 'Some will try it and say, "It's not for me," but it still helps their recovery.'

How long they stay will depend on their injuries, says Jon-Paul Nevin, head of strength and conditioning at Help For Heroes. 'We focus on movement skills, mobility, stability and motion control. When the physiotherapists give us the go-ahead, we work concurrently on rebuilding strength. Programmes can be a year-long or revised daily or weekly.' And it's hard work. 'There are three elements: physical, psychological and social,' says Colclough. 'Physically, a lot of the guys have been on medication and their bodies have changed, so post-medication we help them become more athletic. Psychologically it's about self-confidence, self-esteem and how they feel about their body image. Socially, it's about getting back in the game, so that whether they have a stick, a wheelchair or a prosthetic limb, they're not self-conscious.'
Aiming high
Not all those who are wounded will go on to compete in the Paralympics. 'I think most people believe that if you're in the military you're fit, and that your skills are transferable,' says Butterworth. 'Elite sport is completely different, and it's not easy to match up those capabilities.' But it's not all about elite sport. 'It's about giving people opportunities,' says Colclough. 'For the most part the sport we do is recreational, so we can help guys play football with their kids or go skiing with friends. But Battle Back can take them in any direction, and so some go down the high-performance route while others become instructors.'

Butterworth is aware of how much the programme helped him. 'I was only in rehab for three months, because by then I'd done all the physio I needed. Battle Back appealed to me because I liked the idea of adventure training in an adaptive way. I went skydiving and did sport, and it's all very well doing that in a recreational way but you need to challenge yourself.' He certainly challenged himself from the start. 'The physical work is equal to anything they've done in the past, if not greater,' says Colclough. 'It's a physical, cognitive and psychological challenge.'
Escape to victory
Butterworth has come a long way in a short time. 'You'll see him at the best he's ever been in London, but I think you'll see him at his peak in Rio,' says Furber. 'He'll do very well in London, though. There are other guys who could sneak on to the podium too, but the only pressure on him is the pressure he puts on himself. Our expectations are that he performs his best – if he hits his key performance indicators he should win.'

Butterworth is planning for the long term too. 'Three years is nothing, so I should be better in Rio 2016 and hopefully in 2020,' he says. 'Ten years of cycling, if you put the hours in, is when you should be competent. Chris Hoy's been doing it for 25 years and is still breaking records.' So does he ever wonder what might have been had he not lost an arm? 'Sometimes,' he admits. 'The start is the hardest, because I can't pull on the handlebars. I reckon if I had two arms I could go three seconds faster in the 1km time trial, which would put me in the top ten in the world.' But then, as ever, he puts it in perspective. 'I'd be a good cyclist if I hadn't lost an arm, but I wouldn't have cycled.'
For more interviews with top athletes, subscribe to MF - we'll give you five issues for £5. (opens in new tab)


Download a digital version of the latest issue from iTunes. (opens in new tab)
Sign up for workout ideas, training advice, the latest gear and more.
Thank you for signing up to Coach. You will receive a verification email shortly.
There was a problem. Please refresh the page and try again.