Oscar Pistorius interview
By Sam Rider published
We met the South African runner ahead of the London Olympics to talk sadistic training partners, lessons learned and rubbish nicknames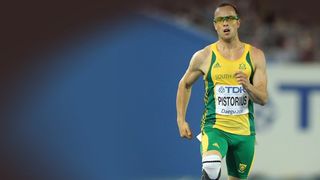 (Image credit: unknown)
You're visiting London with the Olympics just a few months away – how does that feel?
Being in London is nerve-wracking but it's exciting as well. There's a lot of work to do. In December we had 42 training sessions in 20 days so by the time I took a week off over Christmas I needed it. It will be a hectic year but I'm optimistic.
What's the toughest element of your training?
Once a week we do oxygen starvation training. It's shit. Oxygen isn't that important for a sprinter so we train underwater or with limited oxygen. Your body gets used to being deprived of it and uses the nutrients in your muscles to perform. It doesn't feel much harder at the time but an hour later you can't stay awake. I also train with Sebastiaan Rothmann, a cruiserweight world champion. We spar and do lots of plyometric work that kills me. He's a sadist when it comes to that – but a great guy to have in my corner.

What have you learned since missing out so narrowly on qualification for the 2008 Olympics?
A lot. I had a boat accident in 2009 and a lot changed after that. I've grown up. I was taking risks. I was racing motorbikes and wasn't 100% focused. I made changes, not drastic ones but small adjustments. Small changes in lifestyle make the biggest difference to performance. I changed my diet slightly and my weight came down nearly 10kg.
What's the proudest moment of your career to date?
My Beijing Paralympic Games and the world championships last year – as part of the 4x400m relay we broke the national record. We ran sub-three minutes, a huge accomplishment. I won a silver medal but I was a bit upset that I didn't get to run in the final where they ran slower.
You've been an inspiration to many. Who has inspired you?
[Namibian sprinter] Frankie Fredericks, [British hurdler] Colin Jackson and [Italian motorcyclist] Valentino Rossi. They've achieved greatness, yet they're some of the most humble people you'll meet. Colin is a fun guy and a great role model. Valentino's really cool. He's a professional but can also have a lot of fun. I like that. You can't take life too seriously.
How has your standing in sport changed since the ban from competing against able-bodied athletes was overturned?
Since the case in 2008 people are taking me more seriously. People have seen how hard I train. Before me, other athletes used the same prosthetic legs I do and none of them achieved the same times. Critics and politicians will always look for trials and tribulations in my story but my fellow competitors have always been very supportive. That means quite a bit to me.
Finally, what do you make of the nickname 'Blade Runner'?
As long as nicknames don't have negative connotations I don't mind. The one I don't like is 'The Fastest Man On No Legs'. I think that was rubbish. But Blade Runner's OK. Recently a British paper used 'Titan Of The Track', which I thought was rather hardcore, but growing up my mates always just called me Oz.

For more interviews with top athletes, subscribe to MF - we'll give you five issues for £5. (opens in new tab)


Download a digital version of the latest issue here (opens in new tab), or from iTunes. (opens in new tab)
Sam Rider is an experienced freelance journalist, specialising in health, fitness and wellness. For over a decade he's reported on Olympic Games, CrossFit Games and World Cups, and quizzed luminaries of elite sport, nutrition and strength and conditioning. Sam is also a REPS level 3 qualified personal trainer, online coach and founder of Your Daily Fix (opens in new tab). Sam is also Coach's designated reviewer of massage guns and fitness mirrors.
Sign up for workout ideas, training advice, the latest gear and more.
Thank you for signing up to Coach. You will receive a verification email shortly.
There was a problem. Please refresh the page and try again.