Tom 'Kong' Watson on Ninja Rua and Jon Jones
By Coach Staff published
We caught up with the BAMMA middleweight champion ahead of his 21st May fight with Murilo Rua.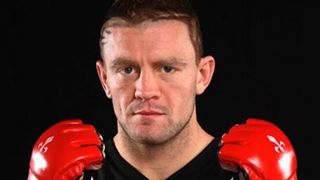 (Image credit: Unknown)
Has your public profile changed since the victory over Alex Reid at BAMMA (British Association of Mixed Martial Arts) 4 in September 2010?
There's definitely been more interest from people in the street who weren't previously aware of the fight industry. I remember going to the dentist straight after the fight and getting recognised by the receptionist because of all the magazine coverage the fight received.

Were you surprised he lasted for the full five rounds?
No, because when I first started fighting MMA, Alex Reid was already one of the top fighters in the UK and he's been in plenty of fights like that before – most people just haven't seen them. He had at least a year to prepare for the fight too, with lots of money and a good training camp behind him, whereas I'd fought in Canada two weeks beforehand.
What would a win over a big-name fighter such as Murilo 'Ninja' Rua – who you're fighting at BAMMA 6 on 21st May – do for your career?
In the UK it won't mean as much as the Reid fight, but internationally it'll be huge for my career. Ninja's probably one the top 20 middleweights in the world. He's been around, he's fought all of the top names in Pride and he did all right against most of them. Right now I'm signed with BAMMA and that's my focus, but my long-term goal is to be the number one middleweight in the sport. The UFC's the biggest promotion out there, and this fight will be massive for my profile in the US.

Some say Rua's best days are behind him. What dangers does he pose you at this stage of his career?
He is coming off a decision loss in his last fight, but his opponent missed weight by two and a half kilograms and hit him with an illegal knee, which really changed the course of the fight. Prior to that Ninja had won four straight fights pretty convincingly, so to be quite honest I'm viewing him as a renewed fighter. I know the UFC were looking at him and talking with his brother [former light heavyweight champ Mauricio 'Shogun' Rua] about signing him, so I don't see him as being past his prime. I think he's got a lot of experience and he's still dangerous.

You've trained at some of the leading MMA gyms – the Tristar Gym in Canada and Jackson's in New Mexico. How did that come about and how has it helped your game?
When I first started fighting I was travelling to Brazil and to the States for training camps, but I felt most at home at Jackson's in Albuquerque and I've been there for three or four years now. Through them I then got the opportunity to go and train with Georges St-Pierre in Montreal when he was preparing for his fight with Dan Hardy. Being around top-level guys the whole time is really important and while there are guys like that in the UK, there won't be 20 of them in the gym with you every day.

Rashad Evans and Jon Jones, the two leading light heavyweights who train at Jackson's, have fallen out since Jones went back on their agreement and said he would fight Evans. What do you make of that situation?
These things happen in sport. In MMA you train with a team, but it's also an individual sport and for both guys being light heavyweight champion is their ambition, so it's tough. I'd always try to avoid fighting team-mates unless it was for a world title.
Tom Watson would like to thank Rockstar and Lonsdale.

To buy tickets for BAMMA 6, which is taking place at Wembley Arena on 21st May, go to ticketmaster.co.uk (opens in new tab). You can watch it live on Syfy (Sky HD 114, Virgin TV 135 and TalkTalk 22).
Coach is the place to come for all your health, fitness, and personal wellness needs.
Sign up for workout ideas, training advice, the latest gear and more.
Thank you for signing up to Coach. You will receive a verification email shortly.
There was a problem. Please refresh the page and try again.