Daley on Strikeforce: Diaz vs Daley loss
By Coach Staff published
British welterweight Paul Daley talks exclusively to MF after being in an early candidate for MMA fight of the year.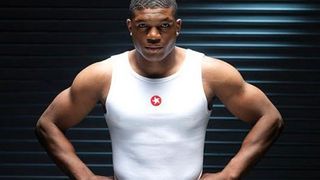 (Image credit: Unknown)
You've just come out of a five-minute war with Strikeforce welterweight champ Nick Diaz that people are already calling the best round of the year. How are you feeling?
I'm feeling fine, not too banged up at all, not even jetlagged from the flight back to the UK. I'm doing a bit of gardening at the moment!

You seemed fairly lucid at the end of the fight, when referee John McCarthy called a TKO after you were knocked down. Do you think it was stopped too early?
Maybe a little bit, yeah. You can see my eyes are okay, and I got straight up and protested the stoppage, which they didn't show on TV. But that's the way things go sometimes.
How did you feel about the fight in general?
I got hit in the first two minutes and I never fully recovered from that – for the rest of the round I was just running on instinct. I think I still did pretty well though because I managed to knock him down. I love being in fights like that, giving people some entertainment and making their Saturday night TV a bit better. I spoke to Nick Diaz at the hotel after the fight, we're cool.

Did he hit harder than you expected him to?
He didn't hit that hard, but all those punches have the cumulative effect of not allowing you to get settled. I imagine that's what it would be like if you were up against someone like Joe Calzaghe.

So what's next for you? After the UFC's buyout of Strikeforce, are there any UFC guys you'd like to see making the jump.
I'd like to go up against another striker – a guy like Cyborg Santos would be perfect. Me against Chris Lytle or Carlos Condit would also be a war.

Were you surprised by the result of Anthony Johnson's fight with your training partner Dan Hardy? There seemed to be a gentlemen's agreement to stand and punch, but it went out of the window quickly.
I wasn't too surprised, I actually though Johnson would go for the takedown. It might have seemed a little bit two-faced but at that level, when guys are getting cut for losses, you can't afford to lose.

On Saturday night, UFC president Dana White tweeted that he 'gives you all the respect in the world for that fight'. After having reservations about working under the Zuffa banner, does that make you feel any better about it?
Yes and no. At the end of the day, I've got a job to do and I'm happy to work for whoever pays me.
For more interviews with and workouts from top British fighters, subscribe to the magazine (opens in new tab) – we'll hook you up with your first five issues for £5. Allergic to paper? You can download digital versions of Men's Fitness here (opens in new tab).
For the best British MMA fights, watch BAMMA 6 on the the Syfy channel on 21st May. Go to the BAMMA site for more details. (opens in new tab)
Coach is the place to come for all your health, fitness, and personal wellness needs.
Sign up for workout ideas, training advice, the latest gear and more.
Thank you for signing up to Coach. You will receive a verification email shortly.
There was a problem. Please refresh the page and try again.