How to cycle around the world
By Nathan Ditum published
Four men who've cycled the globe tell us what they wish they'd known before they set out.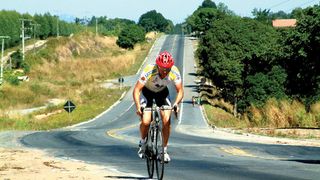 (Image credit: Unknown)
In the February 2011 issue of Men's Fitness (on sale now) (opens in new tab), you'll find the stories of the handful of men who've circumnavigated the globe on two wheels, the scrapes they got in and the race for the world record. If you're anything like us, it'll probably inspire you to drop everything, book a couple of weeks' holiday and get out on the open road. So in the spirit of exploration, we asked each cyclist what they know now that they wished they'd known before they hit the road.
Alastair Humphreys
2001-2005, around 1,550 days
One of the major things for me on the trip was that I didn't have much money. My whole trip cost £7,000 for four years. I was cycling into Mexico City one night – I'd mistimed it – and I was riding through slums, where it was dark and quite scary. I had hours to go and there were lots of little hotels along the way which cost about $10 a night. But that was so beyond my budget I didn't stop, I just kept on with this frightening, dangerous ride. I think if I did it again, I'd put aside a chunk of money – not much, but £40-£50 a month that I could just spend when I really felt like it.
Mark Beaumont
2007-2008, 194 days
We got my wheels set up by one of the best-known wheel-builders in Scotland, and he set them up like race wheels. The bike and all the stuff on it weighs 35kg and we were riding over these incredibly bad roads. These highly tuned race wheels would've been perfect if I'd been time-trialling, but as it was they broke within the first couple of weeks. And I was worried about heading into places like Turkey, Iran or Pakistan with a bike that was breaking so quickly and not being able to find shops who could fix it.
Vincent Cox
2010, 163 days
I wish I'd had a different GPS on my bike. I took one that my wife had bought for me a year before. Not only was it no bloody use, but then when it actually broke, the company was terrible about it. That meant I had to rely on the two means of measuring my distance that I had on my bike: a GPS tracker, which didn't tell me anything but told people on the internet where I was all the time, and a normal cycle computer that counts as your wheel goes round.
Julian Sayarer
2009, 169 days
When I was really going for it at the end I found out that I could do 150 miles [240km] a day instead of the 100 miles [160km] I'd been doing, so I could possibly have done it quite a lot quicker. But I wouldn't have enjoyed it, and what's the point of any of it if you don't enjoy it? Also, the view we're fed of the world by the media is to be fearful of one another, and it's just wrong. I met amazingly friendly people everywhere. In Kazakhstan, you'd walk up to a house exhausted after cycling 100 miles and the guy would invite you in for dinner with his family.
For more great cycling stories, subscribe to the magazine. We'll give you five issues for £5 (opens in new tab).
Sign up for workout ideas, training advice, the latest gear and more.
Thank you for signing up to Coach. You will receive a verification email shortly.
There was a problem. Please refresh the page and try again.