The World's Fittest Special Forces Units
By Paul McNally published
You need extraordinary strength and endurance to be in these elite fighting units – even before going on one of their brutal missions.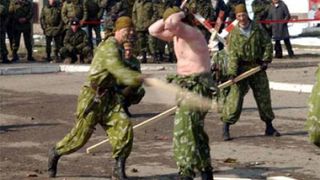 (Image credit: Unknown)
Navy SEALs, USA

Recruitment
Although Hollywood might give the impression that Navy Sea, Air and Land forces are everywhere, in real life there are only 2,000 of them. To be in with a chance of joining them you need to swim 500 yards [457m] in eight minutes, do 100 press-ups in two minutes, 100 sit-ups in two minutes, 15 to 20 pull-ups and then a 1.5-mile [2.4km] run. And not over the space of a week – these are done consecutively, although some rest between exercises is permitted.

In the field
Navy SEALs have been heavily involved in the US's war on terror, and not just in Afghanistan and Iraq. In 2002 in the Philippines SEALs captured and killed a key terrorist leader of the Abu Sayyaf Group, whose goal is to establish a separate Islamic state in the Philippines.

Shayetet 13, Israel

Recruitment
A selection camp to recruit for this amphibious naval commando unit is held twice a year, with doctors and psychologists on hand to prevent burn-out and injury. The entrance tests are not only extremely physical but also ideological – Israeli children begin preparing in high school, and often have a family member coaching them. Training lasts 20 months and includes three weeks of parachute training and three months of advanced infantry and weapons training, as well as underwater demolition and counter-terror operations.

In the field
Most missions are secret, but Shayetet 13's most notorious was Operation Spring of Youth, in which the forces hunted down members of the PLO and Black September groups in Beirut and Sidon in Lebanon, reportedly in revenge for the 1972 Munich Olympics massacre.
Special Air Service, UK

Recruitment
The SAS has the distinction of being the model on which almost all national commando units are based. Its entrance tests have a pass rate of less than ten per cent. For recruitment, 200 potential candidates undergo days of brutal endurance tests with distances increasing every day, are sent to Malaysia for jungle training and finally tested on their 'resistance to interrogation' over 36 hours.

In the field
During the first Gulf War the SAS cut off the threat of Saddam Hussein's Scud missiles by cutting Iraqi communications and scouring the desert for launchers, which they destroyed by calling in air strikes or attacking with their own anti-tank missiles.

Spetsnaz, Russia

Recruitment
Most military training around the world tries to teach but the Spetsnaz rely on punishing you to get you ready for battle. Recruits train with the express goal of injuring other recruits – they break ribs, fingers and vertebrae and are encouraged to embrace the pain they suffer during sessions.

In the field
During Operation Storm-333 in 1979 Spetsnaz stormed the Tajbeg Palace in Afghanistan, killed the president and his 200 personal guards and took over the ministry of interior building, the internal security building and the general staff building. Of 660 Spetsnaz forces taking part in the operation, only 19 were killed.
For more armed forces fitness features, subscribe to the magazine (opens in new tab).
Sign up for workout ideas, training advice, the latest gear and more.
Thank you for signing up to Coach. You will receive a verification email shortly.
There was a problem. Please refresh the page and try again.