Exclusive Jonny Wilkinson interview
By Nick Hutchings published
Toulon's star player and England legend Jonny Wilkinson on the World Cup and why you need to be fitter to play rugby than NFL.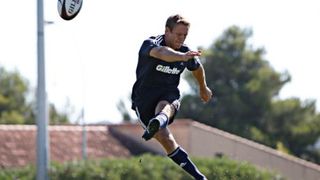 (Image credit: unknown)
How has the move to France helped your game?
Coming to a new club and playing with new players in a region that's very passionate about rugby has made feel that I really need to prove myself. The French league is long and physical and there's so much pressure and that's really pushed me to reach a new level. I love the culture, the language and the passion for the game. It feels right for me to be getting stuck into this new challenge at this point in my life.

Toulon's strength and conditioning coach Steve Walsh is a well-respected figure. What's it been like working with him?
I'm lucky in that I've got a lot of support around me. [Wilkinson's former Newcastle trainer and mentor] Steve Black and my brother are both conditioning caches and have been working with me for long before I came to Toulon. Steve Walsh is in charge of what we do here and is very good at taking onboard what I've done before and bringing in new techniques that have helped me get faster and stronger. He has a good understanding of what I need to do and feel to perform at my best.

What are the main differences between the French and British approaches to rugby training and nutrition?
Reaching your top level in a game is not about pulling it out the bag, it's about daily subscription to behaviour and habits. That's true of every top-level club – you train as you want to be perceived as a player and that means looking after yourself. It certainly helps that in Toulon it's easy to live a healthy lifestyle outside of training because the local diet, which has white fish as a staple, is so nutritious and the weather facilitates an active outdoors lifestyles. Obesity isn't really a problem here.

A couple of years ago there were a lot of media stories about your turning to spirituality to overcome your injury woes. How important is spirituality and religion to you?
I'm more spiritual than religious. One of the main parts of the journey of life is self-discovery; to become more self-aware. I'm constantly reviewing my perceptions of things and trying to look at my life from a detached perspective. As far as rugby is concerned it helps me understand my role as part of a team – how I can be personally successful but also help others to be at the same time.
Have you ever thought about trying your hand at American football?
A few years back there some rumours I was going to go down that route and I've never closed the door on it but my core drive and motivation has been to get on the rugby field. When I feel like I can't go any further in this game I'll review my options but that's a way off at the moment.

How do you think fitness levels in the NFL compare with those of elite rugby players?
There are fewer breaks in a game of rugby so you need more endurance. NFL is more explosive – the wide receivers, for example, will have to make quick powerful movements then be out of the game for a minute or so. In rugby every player has to be well rounded – you all tackle, ruck, defend, attack and so on. In NFL you have guys who don't tackle – each player has a specific role and they don't deviate from it. I love NFL though, the power and explosion makes for compelling viewing.

Who's the fittest player you've ever played against or with?
During England training camps in the late '90s we used to do 3km runs, which didn't really have much bearing on the sport. I remember one day an under-the-weather Mike Catt smashing everyone else – he sprinted around and barely broke a sweat while we lumbered along behind him. It always astounded and annoyed me how naturally fit he was. The testing has changed a lot now and it better reflects what you do on the pitch – we now do more short sharp runs and other sport-specific drills.

What do you think of England's chances in the 2011 World Cup?
We have a huge amount of talent, experience and desire, which means we have all the ingredients to be world-beaters. Unfortunately there are a lot of other international teams who have the same attributes. I don't think we'll be favourites but we've got every right to go there with confidence, knowing that we've got a good shout of getting to the latter stages. Once you get there, it's anyone's.
How much does playing in the World Cup figure in your thoughts at the moment?
It's impossible to not think about it at all but I view every game with the same value so everything I've got is going into the next one.

With the development of injury prevention and rehabbing in the sport, do you think you would have got injured less if you were starting out today?
I've always been privy to pretty good prehab techniques. I've been my own worst enemy at times – my overactive desire to play has caused a lot of my problems. You can improve muscle and joint strength but there will always be times in rugby when you're hit in a way your body can't cope with.

What kind of shape are you in at the moment?
Really good. At one point I didn't think I'd ever go a season and a bit without any problems but that's the situation I'm in now.

How much longer do you think you can keep playing at the top level?
I don't see myself as a mid-to-late-30s rugby pro to be honest [Wilkinson is 31 now]. I think my career is going to be short and intense so I really need to get the best out of myself now.


Jonny Wilkinson uses Gillette antiperspirant deodorant (opens in new tab) containing BCD technology that helps him be at his best even in stressful situations. Check out his stress kicking challenges here (opens in new tab).
Nick Hutchings worked for Men's Fitness UK, which predated, and then shared a website with, Coach. Nick worked as digital editor from 2008 to 2011, head of content until 2014, and finally editor-in-chief until 2015.
Sign up for workout ideas, training advice, the latest gear and more.
Thank you for signing up to Coach. You will receive a verification email shortly.
There was a problem. Please refresh the page and try again.