Improve your triathlon running
By Coach Staff last updated
Double European Junior Triathlon Champion Olly Freeman explains how to improve your performance in the crucial third stage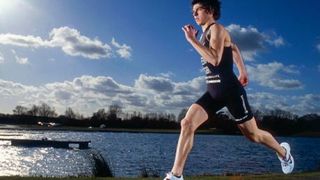 (Image credit: Unknown)
In This Series
Get your training right
'You need to do lots of regular running,' says Freeman. 'As you get closer to the event you should introduce brick sessions, too. This is where you practise biking and running with no rest in between. It teaches you how to cope with the jelly-leg sensation that occurs when switching between using different muscles. Do interval training, too. Combining short, hard sprints with easier recovery periods enables you to produce intense bursts of speed, which can help you during sprint finishes.'

Refuel during the bike stage...
'I refuel with energy drinks and gels during the cycle,' says Freeeman. 'This gives my body time to digest them before the run, meaning I have a good supply of energy.'
...and on the run
'If you're doing a shorter run your body won't have time to absorb anything,' says Freeeman. 'But the odd sip of something might give you a psychological boost.'

Change your pace
'There will be times when you need to speed up – when you're chasing a breakaway pack, for example,' says Freeeman. 'I find it easier to run in the middle of a pack. Running behind someone protects you from the wind and because you're sandwiched between people you don't need to think about your speed – you get dragged along at the pack's pace.'
Buy the right shoes
'Buy your trainers from a specialist triathlon or running shop,' says Freeman. 'If they don't fit you properly, blisters will be the least of your worries – you could roll your ankle or damage your lower leg muscles. Once you have the right pair, rub Vaseline on the inside to stop them rubbing. Use elastic laces fitted with toggles, too. This will turn your running shoes into slip-ons.'
Run after the race
'Do a ten-minute jog,' says Freeman. 'This will lower your body temperature and get the blood flowing. Dip your legs in cold water to flush out lactic acid, then get some warm clothes on so you don't catch a chill. I drink lots of water and eat within an hour of finishing to replenish the glycogen stores needed for muscle recovery.'
Struggling with the swimming stage? Then read our tri swimming tips. (opens in new tab)

Olly Freeman
Age: 23
From: Pembury, Kent
Achievements: 2006 Winner, Blenheim Triathlon. 2006 2nd, Macau Asian Cup. 2006 3rd, London Triathlon.
Coach is the place to come for all your health, fitness, and personal wellness needs.
Sign up for workout ideas, training advice, the latest gear and more.
Thank you for signing up to Coach. You will receive a verification email shortly.
There was a problem. Please refresh the page and try again.