How to Get Vin Diesel's Hollywood Body
By Nick Hutchings published
Check out our interview with Vin Diesel and a workout that will help you get shoulders like him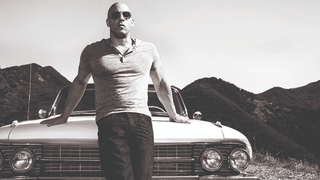 (Image credit: Unknown)
Vin Diesel isn't your typical action hero. It has been just over a decade since he swept into Hollywood out of nowhere, nailing the trifecta of iconic Hollywood blockbuster Saving Private Ryan, high-grossing action movie Pitch Black and dialogue-heavy drama Boiler Room within two years.
Despite his action-hero status, though, he's at his best playing anti-heroes. Riddick in Pitch Black, Xander Cage in xXx and Fast & Furious's Dominic Toretto are all law-breakers, and even the Iron Giant – which he voiced in the 1999 movie – was (spoiler alert!) a weapon designed to wipe out humanity. His physique helps, obviously, but does he worry about being typecast? Not really. 'Being a physical presence will rule you out of a lot of roles,' Diesel tells MF. 'I couldn't have done Ferris Bueller's Day Off. But I like it as part of me – it's part of what I represent. And I think if Humphrey Bogart were around today, he'd be a lot bigger – play to your strength.
The impressive gym in Diesel's garage is a sign that he has embraced his place in the industry. 'Hollywood is more concerned about its male actors being in shape than its female actors,' he says. In his early life, Diesel was a serious gym-goer who built muscle as his main hobby and made ends meet as a bouncer in the New York club scene. 'My only senses of gratification in my early life, for the most part, were my body and women,' says Diesel. 'That was it.'
That might give a misleading impression of the man, though. In fact, he grew up surrounded by creative minds in a community of artists in Manhattan's West Village. His stepfather, a drama instructor at New York University, taught him to take acting seriously, and his mother wouldn't let him play sports growing up. As a struggling actor, he used that gravel voice as a telemarketer so he could save enough money to write, direct and star in his first film, Multi-Facial, an exploration of his own struggles with racial identity.
Today, with head-busting action roles coming so easily, it isn't surprising that opportunities to see Vin Diesel the serious actor are few and far between. 'This is a mafia industry,' he says. 'When studios feel they can keep the lights on by putting you in certain roles, they do.' Boiler Room director Ben Younger agrees. 'If you've seen Boiler Room you have an idea of what Vin's capable of. He can do anything: if he'd wanted to be a character actor he could have done that the rest of his life.'
Part of the reason Diesel nails his roles is the way he prepares. When gearing up to play Dominic Toretto, his Cuban character in the Fast films, Diesel spent time in Cuba, soaking up the culture. For his part in the upcoming Riddick, Diesel isolated himself in Red Hook in upstate New York for months. 'People on Facebook knew I was MIA,' he says. 'I was up in the woods, maybe 30 miles from the Catskill Mountains – there are only black bears up there.'
For now, Diesel intends to have fun playing the roles he's been granted. He's a producer on both the Fast and Riddick franchises, and that allows him to take the films in the directions he wants to go. 'There were scenes on Fast 6 that were so dangerous that if the studio really knew I was doing them they would have shut down production,' he says. 'There were days when I came home and looked at my kids and hugged them and thought "Is it accceptable that I risk my life like that for the sake of art?"
Nowadays Diesel, a father of two, focuses on his home life but that hasn't stopped him using his spare time to plot a trilogy of his own, about the Carthaginian military leader Hannibal. He has talked with Quentin Tarantino, among others, as a potential director. It's an opportunity for him to test his mettle in a challenging new role. 'My chief concern is making things that are significant and allow people to escape in a real way,' he says. He admits he'd like to do more indie roles, but in the meantime he'll keep playing the anti-hero onscreen – and the hero off it.
In the aftermath of Hurricane Sandy, which hit the eastern US last October, he sent funds to cover two weeks' worth of food for the residents of the New York community he was raised in. He and his stepfather also established a film academy in the Dominican Republic through Diesel's One Race Global Film Foundation, which trains aspiring filmmakers. So he's clearly a nice guy who's great at being bad. And in Hollywood that can open a lot of doors.
Get shoulders like Vin Diesel Want massive shoulders like Diesel? They're more vulnerable than your other big muscles, so injury-proof and build them in just three moves
Dumbbell halo
Reps 5 (each side) sets 3
Hold a dumbbell with both hands and circle it around your head.
YTWL
Reps 5 sets 3
Lie face-down on a bench set at 45˚ with your arms hanging straight down, holding a dumbbell in each hand. With your thumbs pointing to the ceiling, raise your arms to form a Y. Lower, then form a T, then a W. Finally, do an I.
Wall Angel
Reps 5 sets 3
Stand with your upper body and bum against a wall and your feet five to ten centimetres away from it for balance. Your arms should be at either side of your body and also flat against the wall with your palms facing out. Slowly raise your arms up in a semi-circular movement staying in constant contact with the wall. Allow them to touch above your head.
Nick Hutchings worked for Men's Fitness UK, which predated, and then shared a website with, Coach. Nick worked as digital editor from 2008 to 2011, head of content until 2014, and finally editor-in-chief until 2015.
Sign up for workout ideas, training advice, the latest gear and more.
Thank you for signing up to Coach. You will receive a verification email shortly.
There was a problem. Please refresh the page and try again.