How To Do The Neutral-Grip Shoulder Press
By Nick Harris-Fry published
Build boulder shoulders with this effective dumbbell exercise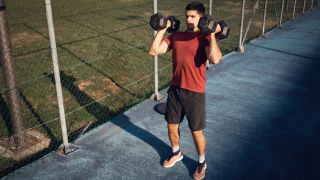 (Image credit: Getty Images)
Pressing weights over your head is a great way to strengthen your shoulders. Unfortunately it can also be a great way to injure your shoulders, especially if you choose too heavy a weight when performing the go-to overhead press or dumbbell shoulder press with your palms facing forwards. The neutral-grip or hammer shoulder press, with your palms facing, puts less stress on the more vulnerable parts of the shoulder joint, making it a good variation to add to shoulder workouts for those worried about shoulder niggles.
How To Do The Neutral-Grip Shoulder Press
Stand holding a dumbbell in each hand over your shoulders with a neutral grip, so your palms face each other. Engage your core muscles to ensure you are standing up straight throughout the exercise. Press the weights up explosively, pause at the top of the movement to stabilise the weight, then bring the dumbbells slowly back down to your shoulders.
Use This Exercise In A Workout
To work your shoulders from all angles, use the neutral-grip shoulder press in concert with two other exercises and a stretch for a full workout.
1 Neutral-grip shoulder press
Sets 3 Reps 8
Sets 3 Reps 10
Stand holding a dumbbell in each hand by your sides with your palms facing each other. Keeping your arms straight, lift the weights up and out to the side until they are level with your shoulders. Lower the weights halfway back down, pause for a beat, then lower them all the way back down.
Sets 2 Reps 10
Stand holding a dumbbell in each hand. Bend at the hips and lower until your back is parallel to the ground with the weights hanging down beneath your chest. Keeping your arms straight, lift the weights back and up to around your hips. Pause for a moment at the top of the move, then lower the dumbbells slowly. It's best to start with a light weight for this exercise to ensure you can control it properly on the kick-back.
4 Shoulder stretch
Round off the workout with this stretch to help your shoulders recover faster. Put both hands behind your back and grasp one with the other. Pull your shoulders back and pull your hands apart until you feel the stretch in your shoulders. Hold for 10 to 30 seconds and repeat five times.
---
Arnold press | Barbell shrug | Cuban press | Face pull | Front raise | Military press | Overhead press | Push press | Upright row
Sign up for workout ideas, training advice, the latest gear and more.
Thank you for signing up to Coach. You will receive a verification email shortly.
There was a problem. Please refresh the page and try again.