Things To Check Before Joining A Gym
By Coach Staff published
Not sure what gym to join as part of your new year's resolution? Here's what to look out for when making your decision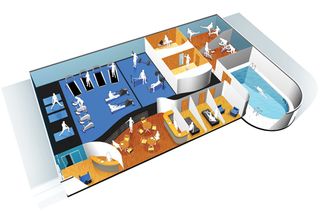 (Image credit: Unknown)
Can you have a trial session? When you buy a car, you expect the dealer to let you test-drive it first. In the same way, any gym you're thinking of joining should let you do a trial workout so you can be certain it's the right place for you before you sign an expensive long-term contract.
Does it have all the necessary facilities? Your fitness needs will change over time and you want to be sure that your gym has the facilities to accommodate them. Below are some of the key things it should have:
Weight training area including a squat rack, dumbbells, Olympic barbells, a pull-up bar, a dip station, benches and floor space.
Cardio area including treadmills, rowing machines, exercise bikes, elliptical cross trainers and floor space.
Stretching area including medicine, BOSU and gym balls, mats and wobble boards.
Changing room including showers, lockers and toilets.
Studios for one-on-one sessions and classes.
Treatment rooms for rehab and grooming treatments.
What classes does it offer? A gym that has a variety of classes not only offers you the opportunity to improve different areas of your fitness, it will also keep you interested in working out.
What else does it provide? As well as the obvious ones such as equipment, staff and changing facilities, a gym should also provide you with towels, water, showers and shower gel. If your monthly fee doesn't cover these things, what are you paying for?
Does your membership allow you to use other branches? Many chains now offer this facility for free or a small additional cost. Think how useful this could be if you have to travel on business, or if you've joined a gym near where you work but you want to train at the weekend.
How crowded does it get? What time of day are you planning to use the gym? Do your trial session then and you'll get a good idea of how busy it's going to be. If it's too packed or too quiet, ask a member of staff to suggest a more suitable time or try somewhere else.
What qualifications do the staff have? Fitness professionals' advice will have a serious affect on your physical health so you want to be sure they are qualified to give it. Personal Trainers should have a Register of Exercise Professionals (REPs) Level 3 fitness qualification, while fitness instructors should have Level 2.
Do you understand the contract you're being offered? If not, don't succumb to the pressure of signing it on the spot. Instead, take it away and read it through in your own time so you can be sure you're not being ripped off.
Should you try and haggle on price?
If you opt for an upmarket gym chain, they will often give no indication of the cost until you've gone in for a taster session. Once you're there, you'll feel some pressure to yes to the first, astronomically high, price they quote. Do not do this. Haggling is allowed, and you should at least aim to avoid paying any kind of joining fee if you're signing up for a 12-month contract.
In January, negotiating will be harder, as gym chains will be enjoying their biggest surge in memberships of the year. That said, you should still try for some kind of reduction on the top monthly price quoted, especially if you're signing up for a year. If you join in summer, you have even more power, as many people eschew the gym in favour of outdoor exercise, so chains will be clamouring for your business.
Coach is the place to come for all your health, fitness, and personal wellness needs.
Sign up for workout ideas, training advice, the latest gear and more.
Thank you for signing up to Coach. You will receive a verification email shortly.
There was a problem. Please refresh the page and try again.