How to run a sub 3 hour marathon
By Max Anderton published
Want to know how to run a sub 3 hour marathon? Use this expert training plan for a PB that starts with a 2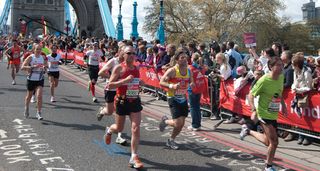 (Image credit: Unknown)
In our March 2014 issue (on sale now), MF freelancer Damian Hall attempts to run a sub 3 hour marathon. The following is an excerpt from the start of his feature.
A sub 3 hour marathon time is the holy grail of long-distance running and when one runner meets another, the conversation invariably leads towards the same question: what's your marathon PB? As much as some of us may pretend other distances are our speciality, or perhaps we've run five marathons but, you know, haven't really trained seriously for one yet, those are our defining digits, the numbers serious runners judge each other on. And if you want respect, there's no getting away from it - your PB for the hallowed 42km needs to be under three hours. That's the benchmark - the holy grail for anyone who has ever laced up a running shoe in anger.
In my first marathon I made all the classic rookie errors: I went out way too fast, didn't take on enough fuel and inevitably smacked into the famous wall, plus I ran dressed as a toilet (and yes, I did look pretty flushed). I clocked in at 3hr 17min and I was fairly pleased with that. Initially, anyway.
But over the next 18 months, as my PBs improved over other distances, I would feel increasingly embarrassed when the topic came up. I'd say road marathons weren't really my thing anyway and I was better suited to ultramarathons. And half marathons. And, um, trail marathons. But I got bored with making excuses and repeating the same toilet jokes. After all, the the marathon is the classic distance, the most famous running event on the planet. I knew I could do better. I knew I had to try and get a sub-three.
Pick up your copy of the magazine to see if Damian made it into the sub 3 hour club, whether injury struck, or he just gave up entirely. Click this link to download the 13-week plan that Damian used to try and get his sub 3 hour marathon time. (opens in new tab)
Max was the head of digital content for Men's Fitness which worked alongside Coach between 2015 and 2019.
Sign up for workout ideas, training advice, the latest gear and more.
Thank you for signing up to Coach. You will receive a verification email shortly.
There was a problem. Please refresh the page and try again.