Marathon training plan tips
By Sam Rider last updated
Peak in time for next year's marathon by starting your training now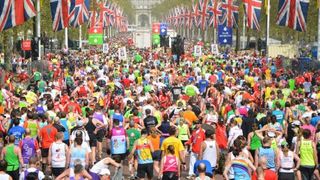 (Image credit: Unknown)
'People who start training before Christmas for a marathon next spring will do better than those starting after,' says running coach Richard Coates of Full Potential. 'You'll have more miles in your legs, reduce chance of injury and have had more time to mentally prepare for the challenge.' So don't wait until the new year to start your marathon training - the sooner you start the better. Here's how you can break your preparation into phases so you're ready for whatever those 42.1km has to throw at you.
Six months from start: Make a plan
'Life has to rule your training, not the other way around. So only design a programme you can fit around your plans. If your training dominates your life you'll lose motivation.'
Tip: Don't get fixated on miles. Time and effort level are better ways to plan your training so set times rather than distances to run for.
Five months from start: Build strength
'Build leg strength in the gym. This will ensure you use the proper muscles when you run and improve your efficiency. Plus stronger muscles won't fatigue as quickly, your cardio will improve and you won't need as much oxygen.'
Tip: Most people are quad-dominant and don't make full use of their hamstrings and glute muscles when running. Fix this with posterior-chain strengthening glute-ham raises.
Four months from start: Vary your pace
'You won't become faster by running at the same pace. Runs at "threshold pace" – a speed that will cause lactic acid to build up in your muscles – will really get you fit. Equally, for long runs out of your comfort zone alternating running with walking will get you used to being on your feet for long stretches.'
Tip: Train in blocks of three weeks hard, with the fourth at a reduced intensity. This gives your body time to adapt and recover.
Three months from start: Practise racing
'Recreate the atmosphere of race conditions to prepare you for the real thing. This will build your confidence and get you thinking about race strategy. Start with a short distance of 5K or 10K and build up to a half marathon.'
Tip: Register for free short distance timed runs at parkrun UK. The Reading Half Marathon on 2 March 2014 is a good test ahead of the London Marathon.
Two months from start: Keep it fresh
'Not all training has to be in running shoes. It can include strength sessions in the gym, fitness classes or yoga and pilates. These will all aid your preparation for the race and keep your training fresh.'
Tip: Avoid running for longer than three hours in one go. Long runs take too much out of you. Even experienced runners won't go beyond the three-hour mark ahead of a race.
One month from start: Taper intensity
'Include three rest days in your final week. The day before go for a 20 minute easy recovery run to shake off tension and get rid of nervous energy.'
Tip: Experiment with breakfast choices and energy gels before and during a longer run so you know what works for the race.
Full Potential is the training partner for the 2014 Mizuno Reading Half Marathon.
Sam Rider is an experienced freelance journalist, specialising in health, fitness and wellness. For over a decade he's reported on Olympic Games, CrossFit Games and World Cups, and quizzed luminaries of elite sport, nutrition and strength and conditioning. Sam is also a REPS level 3 qualified personal trainer, online coach and founder of Your Daily Fix (opens in new tab). Sam is also Coach's designated reviewer of massage guns and fitness mirrors.
Sign up for workout ideas, training advice, the latest gear and more.
Thank you for signing up to Coach. You will receive a verification email shortly.
There was a problem. Please refresh the page and try again.