Nick Hutchings's London Marathon blog 13
By Nick Hutchings published
In Nick's final blog before the race, he tries to ignore the pain and focus on the preparation.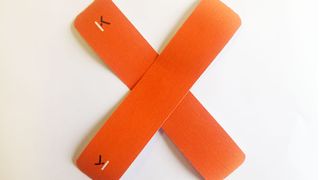 (Image credit: Unknown)
My hamstring feels like it's about to snap, the arch of my right foot wants to pop, my back aches and I've got the unrelenting taste of dread at the back of my throat. Yes, it must be marathon week.
My endlessly patient physio Lucy MacDonald (opens in new tab) tells me that you always feel injuries more acutely in the last few days before a race and that they shouldn't screw me up during the race. I certainly hope so!
Other than these problems, and the fact that my right shoe squeaks every time I take a step – I can't begin to tell you how annoying that is and I have no idea how to fix it – I feel about as ready as you can for the race.
I did my last 10K run on Sunday and this week I'll just swim a couple of times. That'll be enough to keep my cardio up while offering some protection for my poor hammy and arch. Here's a list of the things I still have left to do.
1) Make marathon playlists on two iPods
Yes, I'm carrying two. I'm in trouble if I don't have fast, pounding beats to get me through the race so I need a back-up in case one runs out of batteries. For that reason, I'm also bringing a spare pair of headphones.
2) Carb load
I'll be eating extra carb-rich snacks – fruit and nuts, peanut butter and honey on toast and Scotch pancakes – until Saturday evening for maximum glycogen stores. That's the fuel that will power you during the race.
3) Plan my race timing
I'm going to work out what time I should be hitting each mile marker. In theory this will help me run the marathon in the time I'm aiming for. To avoid egg on my face I won't go into exactly what that is here.
4) Getting extra sleep
Friday is the key night because the effects of a good night's sleep can take up to 36 hours to be felt – and I highly doubt I'm going to sleep the night before the race.
OK, I'm done. If you're racing this Sunday, the best of luck. And if you hear a squeaky-shoed man come up beside you, feel free to squirt me with your sports drink. Just try to get some in my mouth – I'll probably be a bit dehydrated.
See you on the other side.

To sponsor Nick, go to his JustGiving page (opens in new tab).
Nick Hutchings worked for Men's Fitness UK, which predated, and then shared a website with, Coach. Nick worked as digital editor from 2008 to 2011, head of content until 2014, and finally editor-in-chief until 2015.
Sign up for workout ideas, training advice, the latest gear and more.
Thank you for signing up to Coach. You will receive a verification email shortly.
There was a problem. Please refresh the page and try again.