Nick Hutchings's marathon blog 11
By Nick Hutchings published
This week Nick uses the last snowboard trip of the season to aid his marathon prep.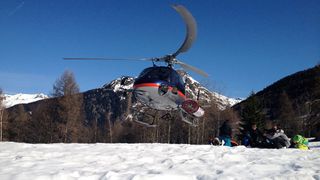 (Image credit: Unknown)
After the 21km race pace run last weekend, my central nervous system was feeling pretty fried so I took it fairly easy for the first part of last week before tackling a big Kenyan hills session on Wednesday. I ran up and down Primrose Hill 15 times in about 30 minutes, which was pretty horrific. I tried to break it down into three sets of five to help me get through it but by the time I'd got to the second set I was in pieces.
I was only too happy, then, to follow a day's rest by flying out to Sainte-Foy in France's Tarantaise Valley for some heli-skiing. I stayed at the sumptuous Pook Heli-Lodge (opens in new tab), which has its own chopper so you can zip around the Alps in search of the best terrain.
On the first day of the trip we hiked to some far-flung powder fields. Although it took just an hour, this hike was tougher than a lot of the runs I've put in while training for the London Marathon. When schlepping through knee-deep semi-frozen snow, you have to lift your legs high every step and use your stabilising muscles to keep yourself from toppling over. It's something of a killer. But we were rewarded with some steep spring powder, which was a welcome break for the legs as well as being a proper rush.
The second day was less physically demanding, although we had to take on a traverse that had me fearing for my life. If you slipped you were going straight down a sheet ice slope and off a 20m cliff. Fortunately, the group made it across without mishap.
Overall, it was an epic trip with lots of exhilarating riding, superb food and great company, which was just what I needed to reinvigorate me for the final stage of training. That begins tomorrow night with a 26km run along part of the real marathon route to prepare me for 22nd April. If you feel like helping me by replicating the crowd response, I'll be coming out of Greenwich Park at about 7pm.
To sponsor Nick, go to his JustGiving page (opens in new tab).
If you're looking for some new clobber to help you achieve a PB, get your hands on some of the Adidas Virgin London Marathon kit I've been using. You can buy it at virginlondonmarathon.com/shop (opens in new tab).
For more training tips and marathon-related stories, get the magazine. Subscribe now and we'll give you five issues for £5. (opens in new tab)
Nick Hutchings worked for Men's Fitness UK, which predated, and then shared a website with, Coach. Nick worked as digital editor from 2008 to 2011, head of content until 2014, and finally editor-in-chief until 2015.
Sign up for workout ideas, training advice, the latest gear and more.
Thank you for signing up to Coach. You will receive a verification email shortly.
There was a problem. Please refresh the page and try again.