MF runs the Royal Parks Half Marathon
By Mark Goodbun published
An early-autumn half marathon in good conditions and a beautiful setting – perfect for a PB, right?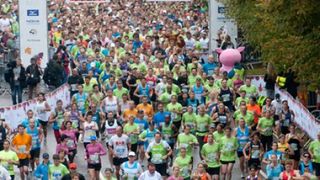 (Image credit: Unknown)
Only two weeks ago, I got off a plane from a two-week holiday in Tenerife and finished Nike's Run To The Beat Half Marathon (opens in new tab) in a pretty good but not great time of 1hr 43min. Now, with a fortnight's decent training under my belt, I'm on the start line for the sell-out Royal Parks Half Marathon (opens in new tab) in London's Hyde Park with the aim of knocking more than five minutes off that time. My current PB is 1hr 38min and I'm confident of beating it.

I spoke to Full Potential (opens in new tab) running coach Keith Anderson for some advice before the race, so I know that I need to aim for 7min 45sec miles for the first eight miles of the race [or 4min 50sec per kilometre for 13km]. At the gun I'm off, running a little bit faster than advised.

All goes well until mile four where the course makes a U-turn on Westminster bridge and I have to whack the brakes on so I don't take out the hordes of surrounding competitors – corners have always been my weakness. I gradually get back into my stride and I feel well on target until the eight-mile mark. People will tell you that's when you often hit the wall. I can confirm it's true and bloody horrible to boot – I feel shattered and my legs are burning, just as the all-important part is coming up.

Anderson had told me to really focus between miles eight and ten and aim to do these two miles at a 7min 20sec pace. I'm not sure if it's the pressure of the increased speed or just my muscles giving in, but my legs aren't having any of it – I go totally the opposite way and slow down. Not happy with my 7min 57sec miles, I fall into a sulk and walk – the first time I have ever walked in a race. Feeling deflated, I allow myself 50 steps before forcing myself to run to the next mile marker. I manage it, and then walk again. Damn it!
With three miles to go, I've well and truly lost my head. Anderson had told me to use these last miles to overtake as many people as I could, but I feel as if my race is over. Thankfully the inclines are behind me so I decide to just enjoy the last three miles and go with the flow. I cross the finishing line with a time of 1hr 44min.

It's a shame my race didn't go to plan – the route and atmosphere were great but it obviously wasn't my day. Perhaps I need to go on a two-week holiday before every race, or perhaps actually follow the expert advice I'm given and not set off too fast. Oddly enough, I prefer the sound of the holiday.
The Royal Park Half Marathon was sponsored by Nokia. To check out their latest hand sets, which give you access to the raft of cool fitness apps on their Avi store, go to nokia.co.uk (opens in new tab)
Sign up for workout ideas, training advice, the latest gear and more.
Thank you for signing up to Coach. You will receive a verification email shortly.
There was a problem. Please refresh the page and try again.