Be your own running coach
By Joe Warner published
Follow Olympic and world champion triathlete Tim Don's simple steps to becoming your own running coach.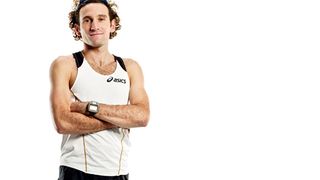 (Image credit: Unknown)
'If you want to get fitter and faster there's no reason why you can't coach yourself. All you need is a little planning,' says Tim Don. 'When it's cold and dark outside, it's tough to picture the hot sun and blue sky backdrops of the racing season. But every good coach knows that winter miles equals summer smiles.'
Don continues, 'So whether you're keen to start racing for the first time, want to try out new events or smash up your old PBs, now's the time to start training so you're in the best possible shape come race season. And that means that you need to start planning. It's the least glamorous part of training but it's the most important.'
Work backwards
There are many ways to plan your training programme but only one is right. Pick the event you want to do and work backwards from it. But be smart with your choice and select a race that fits in with what else is going on in your life at that time. Realistically, it's no good doing one that falls right before you have a big project to finish at work or right after the end of your two-week holiday, because you're unlikely to be at your best.
Have a goal
Want to go under 40min for a 10K run even though your best effort to date is 41min? Taking a whole minute off a PB is huge and it won't happen overnight, or even after a few months. But take a second off your best time each week – which is certainly achievable if you train smart – then this time next year you'll be within spitting distance of your goal. The lesson? Improve a little every week and before too long it's a very big improvement.
Find your weaknesses…
To get fitter and faster you must correct your flaws. It's easy to keep doing what you're good at: you'll end every session feeling great but working on your weakness delivers far better results. It's hard evaluating yourself, so ask a mate to film you in the water, or while running or cycling. You can do it on a cameraphone. You may think your technique is perfect but it's only when you watch yourself that you see areas with room for improvement.
…then address them
Always get overtaken on hills? Focus more on hill running or cycling. Go up it hard before easing back down and repeating to build the power you need to blitz the climbs. Losing time at the start of a swim? Start at the deep end of your pool and practise swimming from a dead start without pushing off from the walls. Getting better at something you've always struggled with is the best motivation to keep on improving.
Think ahead
Spend five minutes on a Sunday planning the next week's training. Analyse the past seven days: what went well and what didn't? Structure the next week around what you need to improve. Ask yourself a few questions before every session. What do I want to achieve today? How am I going to achieve this? What do I want to take away from it?
Book it in
Pre-arrange training sessions just as you do with meetings at work and hanging out with mates. Noting training sessions in your diary keeps them in your mind and means you're more likely to stick to them. Make the most of lunchtimes and weekends, and take advantage of gym classes. Spinning classes are great for a quick but hardcore cycle session, because you can push yourself as hard as you want and get the added motivational benefits of training within a group.
For more expert running and triathlon coaching advice subscribe to Men's Fitness. You can buy 5 issues for just £5 here. (opens in new tab)
Joe Warner worked for Men's Fitness UK, which predated, and then shared a website with, Coach, from 2008 to 2013, then returned as editor of Men's Fitness UK from 2016 to 2019.
Sign up for workout ideas, training advice, the latest gear and more.
Thank you for signing up to Coach. You will receive a verification email shortly.
There was a problem. Please refresh the page and try again.