Team MF blog 30/06/09
By Coach Staff published
While Darren takes a holiday, the other members of Team MF get on with their training for the upcoming mountain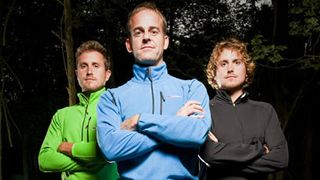 (Image credit: Unknown)
Steve
Thanks to my foot injury my running (opens in new tab) ban is still firmly in place, so I've decided to concentrate on increasing my overall strength because this will be critical to us finishing the Ultra Trail du Mont Blanc.

I've taken part in an ultra-endurance race so I know it's not alway about how good a runner you are. By the time you get to the end, a racer will use whatever bits of their body they can to power towards the finish, whether that's rocking from side to side or even attempting to nod their way over the line.

By far the best session last week was a phenomenally brutal weights workout with Rajko Radovic, who took part in the BBC programme Last Man Standing. My muscles still hurt so much that for once I actually don't want to run!

Next week, I'll be heading back to my foot specialist to see if the fractures are healing. He's also going to make me some custom orthotics to make my return to ultra running 'as painless as possible'. I wonder if he gets the irony?

Nick
Last weekend I did a triathlon (opens in new tab) in Ayr, Scotland. I had a brilliant time and came fifth in a pretty strong field. The running leg was definitely the highlight – it was terrific to be able to go flat-out for an hour without having to carry a heavy bag or think about nutrition strategy! Even though my swim was amusingly poor and the ride was hilly and wet, it was still a short, easy race compared with the long-distance endurance training I'm now used to.

It was also one of the best-catered triathlon (opens in new tab)s I have done. At the end I was offered mouth-watering post-race cakes and sandwiches that seemed to have come from God's own fridge. After my exertions I thought it only fair to do some serious damage to them.

Although I'm keeping my eye out for any upcoming triathlons, my focus is now on the 88km qualifying race for the Ultra Trail du Mont Blanc, which we'll be doing a month from now. I'm not sure what my strategy for training is yet, other than eating – and enjoying my sport. I've read up extensively on ultra running, and enjoying yourself seems to be the thing that really matters.
Thanks to Berghaus (opens in new tab) for supporting Team Men's Fitness.
We've got more cool Team MF coverage in the mag. Subscribe here (opens in new tab) to make sure you don't miss any of it!
Coach is the place to come for all your health, fitness, and personal wellness needs.
Sign up for workout ideas, training advice, the latest gear and more.
Thank you for signing up to Coach. You will receive a verification email shortly.
There was a problem. Please refresh the page and try again.