Team MF blog 17/06/09
By Coach Staff published
Here's what Team Men's Fitness have been up to this week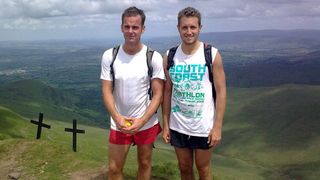 (Image credit: Unknown)
Steve
It took the foot specialist about two milliseconds to diagnose the fractures in my right foot. So at least I know I haven't been imagining the pain! My challenge now, of course, is this: how do I train for the upcoming ultra-marathons when I'm not allowed to run (opens in new tab)? The timings are tight. The next race is just seven weeks away, and I'm under orders to take at least the next five weeks off. With that in mind I've been chatting to some cycling coaches and doctors, who think that training exclusively on my bike might be the way forward. It will certainly keep my cardiovascular system in excellent shape, it's brilliant for leg strength, and most importantly there'll be no shock or impact going through my body. Apart from the fact that Darren keeps insisting I'm made out of porcelain, I feel pretty positive and am looking forward to shaking up my training.
Darren
Following a stag do last weekend, I detoxed with lots of rowing and road running (opens in new tab), topped off with a weekend in the Brecon Beacons in Wales to hit the excellent trails there. With the weather close to perfect, Nick and I – along with fellow Namibian Ultra runner Alex Bamford – tackled a lesser-known but challenging route taking in Corn Du and Bryn Teg and returning via the very well-known Pen Y Fan to Beacons Reservoir. The route can be tough and fast in places, testing our knees, calves and thighs – perfect training for the Ultra Trail du Mont Blanc. We finished with a refreshing cold mountain stream swim and, with big grins all round, ordered 99 flake cones from a well positioned ice-cream van as a post-training treat. A perfect training week, with no injuries to report. Well, not for Nick or me anyway…
Nick
The run (opens in new tab) in the Brecons with Alex and Darren was the highlight of my hill training so far. Darren took us on a great route, including a waist-high bog that I managed to pile straight into much to the boys' enjoyment.
The last section of the run had to be the best part: first we ran headlong down the mountain trying not to take out the people coming up it, and then we ended up messing around in the stream. Darren declared that he was too old to be paddling around in the water, so he lay in it fully clothed like a dead body. You have to admire his style. Even if he is getting on a bit. Afterwards we had a brilliant meal round at Darren's cooked by his lovely wife. You can't beat a lamb stew after a big mountain run.

Thanks to Berghaus (opens in new tab) for supporting Team Men's Fitness.
Coach is the place to come for all your health, fitness, and personal wellness needs.
Sign up for workout ideas, training advice, the latest gear and more.
Thank you for signing up to Coach. You will receive a verification email shortly.
There was a problem. Please refresh the page and try again.