Men's Fitness marathon blog 13
By Coach Staff published
MF's Joe Warner has been blogging about his training for the 2009 London Marathon. Here's how he got on in the race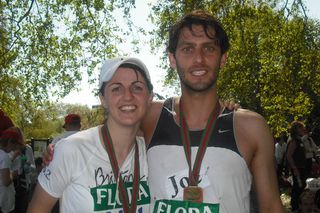 (Image credit: Unknown)
What's your perfect Sunday morning? A lie-in followed by a full English and the sports section of the paper? Not me. Gathering at Greenwich Park with 35,000 scantily-clad runners on a scorching spring morning? Now we're talking.

Last Sunday London hosted its annual 26.2-mile run from Greenwich to the Mall and I'm delighted to sign off my marathon blog (opens in new tab) by reporting that I had an absolute ball.

If you've been following my blog (opens in new tab), you'll remember that I was running for the premature baby charity Bliss (opens in new tab)with my friend Brittany, and had offered to help pace her around the course in under four hours. We missed our target (by just five minutes!) but we were nevertheless both over the moon considering how hot it was – 19ºC at the 9.45am start – and that we raised more than £2,000.

The sun helped draw out a huge crowd, whose support kept us going when the legs began to tingle, then throb, then just plain hurt.
We probably could have pushed ourselves a little harder during the middle miles, but the final stretch of the course along Embankment was littered with runners, typically young men, getting medical treatment. I have no doubt that many had set off too fast and simply ran out of gas.

There were so many highlights. Crossing Tower Bridge just before the halfway point gave me such a lift because the crowd is huge and you know you've ticked off all those miles south of the Thames.

Canary Wharf is usually a quiet part of the course but on Sunday it was buzzing and going past the sign for 20 miles is a huge psychological landmark because there's just six to go.

Mile 23 onwards along Embankment is my favourite part of the course because it seems as if every step takes you past a landmark, and every one is closer to the finish: first the London Eye, then the Houses of Parliament and Big Ben, before a sharp right turn leads to St James's Park, Buckingham Palace and finally the Mall.
Brittany clearly had a little left in the tank at the end as she started sprinting as soon as she saw the finish line, forcing me to follow suit. It's just impossible to describe just how good it feels to cross the finish line of the world's greatest road race. It's a combination of happiness, pride, exhaustion and overwhelming relief. It was even more special this year because I didn't have too long to wait until my dad crossed the line too.

So many people I speak to claim that they could never do a marathon. Balls. Anyone can if they are motivated and determined. The training is tough and time-consuming but the pay-off is worth every single second. Don't believe me? There's only one way to find out, go to virginlondonmarathon.com (opens in new tab). I've already signed up for 2010. Maybe I'll see you at the start.

Joe Warner ran the marathon for Bliss (opens in new tab), the special care baby charity.

Prepare yourself for next year's London marathon – or any 26.2-miler you like – with our marathon training plan and these exercises (opens in new tab), devised by top long-distance runner Dan Robinson.

Coach is the place to come for all your health, fitness, and personal wellness needs.
Sign up for workout ideas, training advice, the latest gear and more.
Thank you for signing up to Coach. You will receive a verification email shortly.
There was a problem. Please refresh the page and try again.