Team Men's Fitness post-race blog 20/04/09
By Coach Staff last updated
The boys are back and here's what happened when they ran the 126km Namibia Desert Ultra Race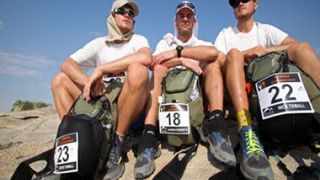 (Image credit: Unknown)
Image 1 of 2
Darren Roberts, Team MF, feet Team Men's Fitness wins Namibia Desert Ultra Race Darren Roberts, Team MF, feet Team Men's Fitness post-race blog 20/04/09 - Pictures
Team Men's Fitness post-race blog 20/04/09 - Pictures
Darren
If someone had told me I would win in my first ever ultra-marathon, I would have laughed at them.

The months of training (opens in new tab) prepared us for the Namibia 24-hour Ultra Marathon in as much as it gave us confidence that we could manage long distances in the UK, but the desert environment threw more than kilometres at us. It was unbelievably tough. The walls of heat, dry wind and rocky landscape were unforgiving and punished our bodies much more than we expected. The terrain affected us all differently, which meant that although we started out together, by the 80km mark we were running separately.

Seeing a lot of people on IV drips at checkpoints proved that a sound food and water strategy was essential. I kept to my plan and kept it simple: food on the hour, every hour, and three litres of liquid every 20km. It must have worked – I won the event! One week on, I'm still coming to terms with that. Obviously I'm extremely happy, but I'm also a little shocked (and hobbling).

The race was about more than just running though – it was a life experience. Men's Fitness provided us with the challenge, race organiser Across The Divide (opens in new tab) provided the backdrop, and all we had to do was complete the race. Bring on the next one.

Steve
Just 90 minutes after the gun went off, I was pulled out of the race with all the early symptoms of heatstroke. It started with goose bumps after 50 minutes. Then my pulse rocketed and I was insatiably thirsty. Finally I stopped sweating even though the temperature was pushing 42°C.


I knew they were right to take me out – you don't mess around with heat injuries – but I couldn't believe I'd done all that training for this. Fortunately, once the sun had set the doctors decided that I could resume the race if I felt up to it. So I met up with Nick at the end of the first marathon and ran the next two with him through the night.

Getting back into the race, crossing the line with my brother, and finding out our team mate had won are three things I'll never forget.

Nick
When I started the Namibia Ultra, I was still thinking of it as just a running race. By the end I was under no illusions – this was the most brutal physical challenge I have ever experienced and one that will live with me forever.

The midday heat provided the toughest test – it made you feel like you were being microwaved. But even at 4am, I was falling asleep while walking and felt close to crashing and burning. Dawn was the best time, as the sun rising over the Namibian plains gave me the bump I needed to pick up my pace.


About 8km from the finish, after I'd been running for 22 hours, I started weeing what looked like blood. I consulted a doctor at the next checkpoint, only to be offered two Panadol and told it was normal. How's that for confirmation of what a crazy race this is?

All credit to Darren for winning the race – what he did was astonishing – and to Steve for coming back from heatstroke and completing most of the course. As for me, I'm proud of my sixth place and I can't wait until the next race.
Thanks to Berghaus (opens in new tab) for supporting Team Men's Fitness. For more information on the Namibia 24-hour Ultra Marathon go to the Across The Divide website (opens in new tab).
Coach is the place to come for all your health, fitness, and personal wellness needs.
Sign up for workout ideas, training advice, the latest gear and more.
Thank you for signing up to Coach. You will receive a verification email shortly.
There was a problem. Please refresh the page and try again.