Team Men's Fitness training blog 05/04/09
By Coach Staff published
Team MF are blogging about their training for the Namibia Desert Ultra Race. Here's their last one before the race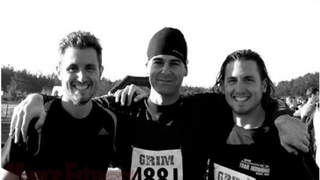 (Image credit: Unknown)
Darren Roberts and brothers Steve and Nick Tidball are Team Men's Fitness (opens in new tab).Here, in their latest Team Men's Fitness blog, they talk about how they feel in their thirteenth and final week of training for the fearsome 120km Namibia Desert UltraRace on 8th April.
Steve
It's interesting how differently each of us has trained for the same event. I've done the most running (opens in new tab), Nick's done the most eating, and Darren's done the most kit buying. This close to the race, all my training is about event-specific workouts with a backpack full of weights. The first run was hideous – like trying to move with a fidgety elephant strapped to my back. But you quickly get used to it, and I'm now running at a good pace with 14kg – what I'm hoping will be double the weight of the bag I'm racing with – strapped to me.

Nick
In 11 days time I will have run 120km across the Namib Desert. It will undoubtedly be the toughest thing I've ever done. The fact I'm running it with my brother and a very good friend will make it a damn sight more manageable though – especially because I've got at least five hours of jokes about Darren's kit (opens in new tab) fetish to keep us all amused! The other running joke (pardon the pun) is how we should cross the line at the end. Steve and Darren want to do it holding hands, but I think it should be every man for himself for the last 100 metres. Whatever we do, I am crossing that finish line. Even if I have to crawl.

Darren
It's our last entry before the race. We fly to Windhoek, Namibia, on Wednesday and start the race on Saturday. We've got two days to acclimatise before beginning the longest, most extreme trail run any of us has experienced. Barring Steve's foot (opens in new tab) (opens in new tab)(which is now a lot better), we've made it here without any major injury concerns and are in the best shape of our lives. I can't wait for the race to begin.
Thanks to Berghaus (opens in new tab) for supporting Team Men's Fitness.
Go to the Adventure Racing website (opens in new tab) for more information about the Namibia Desert Ultra Race.
Coach is the place to come for all your health, fitness, and personal wellness needs.
Sign up for workout ideas, training advice, the latest gear and more.
Thank you for signing up to Coach. You will receive a verification email shortly.
There was a problem. Please refresh the page and try again.