Standing calf raise
By Coach Staff published
It's hard to challenge – and therefore build – your calves because they already work hard all day when you simply walk around. Use heavy weights and low reps to force your calf muscles into growth.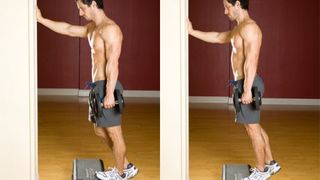 (Image credit: unknown)
In This Series
Place the ball of your foot on the edge of a step and let your non-working foot hang free.
Hold a wall for balance and keep your body upright.
Push up until the heel of your working leg is as high as it can go.
Hold the tension in your calf for a moment before lowering slowly back to the start.
Coach is the place to come for all your health, fitness, and personal wellness needs.
Sign up for workout ideas, training advice, the latest gear and more.
Thank you for signing up to Coach. You will receive a verification email shortly.
There was a problem. Please refresh the page and try again.