ViPR Workouts For Strength, Fat Loss And Conditioning
By Jon Lipsey last updated
The ViPR training tool combines the pugil stick with dumbbells, working new muscles through multiple planes of movement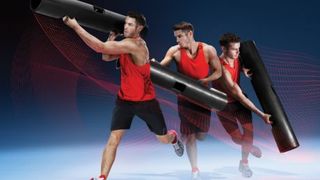 (Image credit: Unknown)
Ordinarily there's an inverse relationship between the jazziness of a product's name and its usefulness. Take the dumb-bell: an incredibly effective and versatile bit of kit that has an almost self-mocking name.
The ViPR, on the other hand, has a name that merges venomous snakes and a complete disregard for grammar. So it's a surprise to discover that these weighted rubber cylinders, with a hold on one side and two holds on the other, make a fantastic addition to your training.
What's most attractive about the ViPR is the way it's able to recruit multiple muscle groups 
and get you moving through multiple planes of movement. The result is significant growth hormone release, big calorie burn and a way of moving that will stimulate your nervous system.
"In the gym, people aren't moving in a way that they do in everyday life," says Michol Dalcourt, the Canadian trainer who invented the kit and has created these three ViPR workouts.
"You rarely see people move a load through a field of gravity during their workout. Usually they just move the load up and down. At the heart of ViPR training is the concept of whole-body integration [WBI]. WBI means that you are using your entire body to effectively create motion. Treating and training movements using the whole body is more effective, and loading these movements will create accelerated improvements."
You can also use the ViPR to achieve different fitness aims. Shifting one that weighs more than 10kg in big, multi-joint movements will stimulate a massive growth hormone response. Doing multi-plane movements back-to-back in a circuit will burn calories. You can also use it to condition yourself for sport.
Use the three workouts in the following sections and you'll find there's more to the ViPR than just a cool name.
Strength Workout
1 Squat thread the needle
Sets 2 Time 30sec
Start with the ViPR at chest height then rotate it a quarter turn.
Squat down and thread the ViPR through your legs, keeping a natural arch in your spine.
Return to standing and rotate the ViPR a half turn, then repeat the squat movement.
2 Front carry hip sways
Sets 2 Time 30sec
Hold the ViPR to your chest with a very wide stance and your feet turned out slightly.
Shift your weight onto one foot, moving your hips to that side and keeping your leading knee over your toes.
Shift your weight to the opposite side for one rep.
3 Squat with lateral diagonal raise
Sets 2 Time 30sec
Sink into a squat and reach the ViPR to one side and at an angle.
Stand up and move the ViPR diagonally across your body without rotating your torso.
4 Cylinder lift
Sets 2 Time 30sec
Start in a half squat with your elbows tucked in to your body and your hands gripping the top of the ViPR.
Straighten up and lift the ViPR so your hands move down it.
Sink into another half squat to repeat the move, sliding your hands further down the ViPR until you're holding it by the bottom.
5 ViPR box pattern
Sets 2 Time 30sec
Hold the ViPR horizontally at hip height, then extend your arms.
Rotate the ViPR to the left until it's vertical.
Rotate it back until it's horizontal at head height.
Rotate it to the right until the ViPR is vertical again.
6 Transverse plane thread the needle
Sets 2 Time 30sec
Start with the ViPR overhead.
Take a step to one side and backwards slightly.
As you step, drive the ViPR down and through your legs.
Fat-Loss Workout
1 Lateral tilt with lateral shuffle
Sets 3 Time 40sec
Start with the ViPR upright and hold it loosely.
Shuffle to one side until the ViPR begins to tilt.
Decelerate the tilt then accelerate to the other side and repeat that movement.
2 Anterior step with uppercut
Sets 3 Time 40sec
Take a step forward and as you plant your front foot, perform an uppercut.
3 Lateral ViPR flip
Sets 3 Time 40sec
Squat down with the ViPR flat on the floor. As you stand up, flip the ViPR up.
As it reaches an upright position, control the ViPR with the other hand, taking a lateral shuffle and squatting down again as the ViPR reaches the floor.
Repeat the move in the same direction, swapping sides each circuit.
4 Shoulder to shoulder press
Sets 3 Time 40sec
Start with the ViPR on one shoulder.
Shuffle in the direction opposite to the shoulder carrying the ViPR.
Use the momentum to help you press and transfer the ViPR to the other shoulder.
5 Sagittal shuffle with tilt
Sets 3 Time 40sec
Start in a half squat with the ViPR in both hands.
Shuffle forwards until the ViPR is upright, then lunge with one foot to the side of the ViPR so that it tilts forward.
Control the deceleration then return the way you came. Swap sides each rep.
6 Transverse plane jumping stack
Sets 3 Time 40sec
Start with your feet together with the ViPR across your body with your torso facing in the opposite direction.
Jump and twist with your torso moving in the opposite direction to your feet.
Running Stability Workout
1 Step-over squats
Sets 4 Reps 8-10
Start in the carry hold position, then rotate your hips and step across your body.
Step back the way you came but turn your leading leg out slightly and squat.
2 Split stance low reach
Sets 4 Reps 8-10
Start in a split stance with the ViPR at hip height.
Reach to the opposite side of your forward foot, moving your hips sideways to counter the movement.
Swap sides each rep.
3 Lunge with multi-plane reaches
Sets 4 Reps 8-10
With the ViPR at hip height, lunge forward and extend your arms.
Return to the start, then lunge forwards once more, reaching to the side of your leading leg.
Return to the start and lunge forwards again, reaching away from your leading leg.
4 Lateral bounds
Sets 4 Reps 8-10
From standing, bound to one side with one leg and rotate your torso towards that leg while moving the ViPR across your body so one end is near your standing foot.
Repeat on the other side, bounding with the other leg.
5 Shovelling
Sets 4 Reps 8-10
Start with your left hand near your left shoulder and your right hand near your left knee with the bottom of the ViPR near your left foot.
In a scooping motion, rotate your body and move the ViPR up in an arc to your shoulder. Swap sides each rep.
6 Step with lateral shift
Sets 4 Reps 8-10
Take a big step to one side and drive the ViPR horizontally across your body.
Return to the start then repeat the move on the opposite side.
Jon Lipsey worked for Men's Fitness UK, which predated, and then shared a website with, Coach. Jon was deputy editor and editor from 2007 to 2013. He returned as editor-in-chief from 2016 to 2019. He also co-founded IronLife Media (opens in new tab) and the New Body Plan (opens in new tab).
Sign up for workout ideas, training advice, the latest gear and more.
Thank you for signing up to Coach. You will receive a verification email shortly.
There was a problem. Please refresh the page and try again.