Andy McKenzie Home Workout
By Joel Snape last updated
We featured McKenzie's superb garage gym in our readers' home gyms feature. Here's one of the workouts he does in it.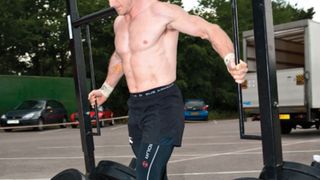 (Image credit: Unknown)
McKenzie calls this brutal workout 50 Reps To Hell. "You do 50 reps of the first move, 49 of the second, 48 of the third, 47 of the fourth, 46 of the fifth and then repeat the circuit dropping a rep for each move until you get down to one. You have to get though it as fast as you can." It clearly works – just look on the right to see what phenomenal shape he's in.
1 Clap press-up
"Your chest must touch the floor during each rep. Once you hit the floor, take your hands off the ground and clap them together above your head," says McKenzie. "It'll stop half press-ups creeping in."
2 Double-under skipping
"You can do two-footed jumps over a sandbag if you don't have a rope," says McKenzie. "Just do it fast!"
3 Dead hang
"Either hang straight from the bar or, if you're feeling adventurous, use something to test your grip strength, such as ropes or towels," says McKenzie. "The important thing here is continually crush when gripping and brace your whole body to create extra tension."
4 Prisoner squat
"Keep your hands behind head and elbows pushed back at all times," says McKenzie. "Make sure your thighs are parallel to the ground at the lowest point of the move."
"Set the bar to hip height," says McKenzie. "Your chest must touch the bar and your whole body stay rigid throughout the movement."
From 2008 to 2018, Joel worked for Men's Fitness, which predated, and then shared a website with, Coach. Though he spent years running the hills of Bath, he's since ditched his trainers for a succession of Converse high-tops, since they're better suited to his love of pulling vans, lifting cars, and hefting logs in a succession of strongman competitions.
Sign up for workout ideas, training advice, the latest gear and more.
Thank you for signing up to Coach. You will receive a verification email shortly.
There was a problem. Please refresh the page and try again.