The Rock interview: Hercules
By Coach Staff published
Dwayne 'The Rock' Johnson on building the body of a demi-god to play the title role in Hercules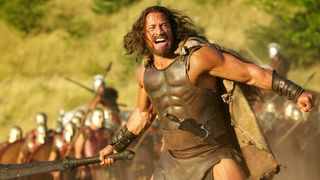 (Image credit: unknown)
What attracted you to the role?
Making a movie about Hercules has been a passion project of mine for a very, very long time. He's a character who's inspired so many people over the centuries, myself included. I had one of those old fashioned painted posters of Steve Reeves as Hercules when I was a kid. There's a moment in Hercules Unchained, where he breaks his chains from the pillars and screams out, "I am Hercules!" For me as a kid, that was mesmerizing. It was the first project I enquired about doing when I broke into Hollywood 15 years ago, so it's been many years in the making. Plus I've always wanted to wear a loincloth.
What did you want to achieve with the character?
For me, the tone of Hercules had to be right on the money, it had to find that balance between humour, heart, and big, epic action – and I think we were able to do that and ground the story with characters that are a lot of fun. I wanted Hercules to have a cool charm, and to be everything that people always imagine he would be, physically.
What did that involve in terms of training and nutrition?
You only get one crack at Hercules, so I worked as hard as I could to transform my body. I wanted audiences to see the version of the character that I had in my head on the screen, and I knew that would require hardcore strength and conditioning training and dieting. So I started prepping about 8 months out with a strength and conditioning coach and a diet coach. Creating that kind of physique requires astute attention to detail. Sometimes you have to back off on cardio or increase cardio, train three times a day, increase your calories to 8,000 a day or reduce your calorie intake. By the time we started shooting I'd put on 35lb (16kg) of muscle.
What was the toughest thing about the preparation?
Having reached that physical peak, the most difficult, challenging thing was maintaining it for five or six months during filming, because everything has to match and you have to look the same on day one as you do on day 95. I had to work out twice a day before even getting to the set. It was a big challenge, but it should be a challenge to play Hercules!
Check out this exclusive clip:
Hercules will be released nationwide on Friday 25 July
Coach is the place to come for all your health, fitness, and personal wellness needs.
Sign up for workout ideas, training advice, the latest gear and more.
Thank you for signing up to Coach. You will receive a verification email shortly.
There was a problem. Please refresh the page and try again.