Robocop workout tips
By Coach Staff last updated
Build cyborg strength with training advice from Robocop star Joel Kinnaman's trainer, Bobby Strom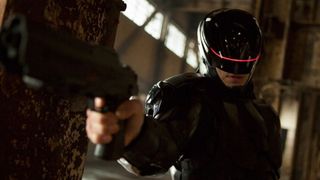 (Image credit: Unknown)
Bobby Strom is a personal trainer who has worked with a host of celebrities, including Britney Spears, Ryan Reynolds and Scarlett Johansson. Here he talks to MF about training actor Joel Kinnaman for his leading role in last year's Robocop remake.
What kind of shape was Joel in when you first met him?
He was lean and fit because he'd been doing a little training already. We just made him leaner, bigger, stronger and in superior condition.
When did you start working with him?
I've been working with him since January 2013, when he had to get in shape for filming, but we've continued to the present day.
What did the training sessions consist of?
The Robocop suit that he had to wear was heavy, so we did a lot of core and stability work to protect his back, using a TRX, a Bosu ball, stability boards and resistance bands. We also did a lot of high-intensity interval workouts that I call 'mash-ups'. The aim is to move hard and fast through the entire workout, and never do the same workout twice.
Did he enjoy the training?
He really did and still does – we're training together six days a week at the moment.
What about his nutrition?
All his meals were calculated to the exact amount of protein, complex carbs, essential fats and calories for six days a week. That left him one day a week to do his own thing, but that still meant eating healthily. As we got deeper into the training we increased his protein and calories.
Was it hard to fit in training sessions around his shooting schedule?
Shooting days were long, so it was hard to find time to train. It meant he had to be prepared ahead of time. But he got it – he's a smart guy.
Robocop is available on digital platforms from 2nd June 2014, and on DVD and Blu-ray from 9th June 2014, courtesy of Studio Canal.
For more from Bobby Strom, click here (opens in new tab)

Coach is the place to come for all your health, fitness, and personal wellness needs.
Sign up for workout ideas, training advice, the latest gear and more.
Thank you for signing up to Coach. You will receive a verification email shortly.
There was a problem. Please refresh the page and try again.