Charlie Bewley Workout Tips
By Richard Jordan last updated
How Charlie Bewley went full Norseman for his Hammer Of The Gods workouts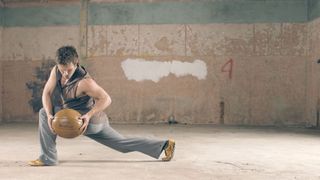 (Image credit: Unknown)
Plenty of actors are happy to embrace the 'method' when it comes to the exciting stuff, hitting the gym, punchbag or buffet queue every day and reaping the plaudits. Not many take it as far as Charlie Bewley. When the Leicester-born actor, previously best known for playing fan-girl favourite Demetri in the Twilight series, landed the lead role in Viking blockbuster Hammer Of The Gods, he decided to go full Norseman.
"I did tons of rowing," he says. "Hours and hours of it. It was like, 'How much rowing can I do in a day? The machine's gonna break before I do', that kind of thing." He also learned to handle a broadsword, bagged a legitimately Viking-quality injury and generally romped his way through one of the most hardcore action flicks released in recent years. But his real secret weapon isn't one you might expect.
You brought your own skipping rope to our shoot. That's pretty impressive.
Yeah, I've recently started skipping loads. I'm getting addicted to skipping. I feel like my legs are actually getting younger as I skip and it absolutely shreds you down – I've lost something like a stone [6.3kg] just from skipping. Skipping is easier to do than running because you don't need to find a route, you can just get out there, stick on some Armin van Buuren and get to it.
But you like running too, right? We heard you're something of an ultrarunner.
Yeah, race-wise, I did an ultra – well, a half marathon before a full marathon – but that wasn't too hard, it was kind of a race against myself. My toughest race was probably a half Ironman. It was my first ever triathlon, and I did it in Mexico. It was absolutely baking, my shoes were melting on to the Tarmac. It was such a horrible experience – I did it by myself and when I finished I was like, "There's nobody here to see it!" I almost started crying.
Sounds brutal. So you're pretty serious about your training, we're assuming?
I get in a really bad mood if I don't exercise. It's not something I have any choice over, with the parts I'm playing, but I really do love exercise. I like Spartan races, I like feats of human endeavour, I used to love doing half marathons and things like that. There's a point about 15 minutes into a good run in the hills when I feel awesome – it's like having my own little adventure every day.
How do you stay motivated?
You've got to generate the stakes in your own head. You've got to decide, why do you want this for yourself? What is there about this race that makes you want to do it? We're all alone, we're all born alone, we're all going to die alone, but we might as well do something in the meantime. I've always said you should find out who you are, because you don't know what's coming – you should work it out in case the apocalypse happens or something. I think it's important to find the warrior within you before you find the war.
That brings us to your new film, Hammer Of The Gods. How did you get in shape to play a Viking?
I carried a sandbag everywhere I went and filled it up wherever I was. It was like, empty out the Argentine sand, add in the Venice Beach sand. I do a lot of rotational stuff with it, a lot of twisting and carrying. It's a real a lifesaver because out in places like Morocco there's nothing, no other way to train.
Did you have to do much fight-specific training in preparation for the role?
I had a broadsword I'm supposed to have had all my life, so I spent a lot of time working on that with our stunt team and I hope that comes across. It was such a great learning experience. Richard Ryan is a great stunt director, he really knows his stuff.
The film's fight scenes are pretty full-on. Did you pick up any injuries during filming?
There were some bloody knees and elbows. Early on I got headbutted by [castmate] Elliot Cowan. We were practising this cave fight scene and he pinged me with a headbutt. My eye just started gushing, I had a black eye for a couple of weeks and we had to film around it. Then there was another scene where I was hanging upside down for hours, and I ended up throwing up on someone.
Nasty.
Well, I used to play rugby and I used to fight a lot, so it was great. All that fighting and death. One of the best things about acting is you get to kill people, then go to lunch.
Did you eat like a Viking?
You know, I thought nutrition was a big thing for me until I went to Argentina recently and I was eating bread and milk and cheese and steak and chocolate and red wine, not doing much exercise, and I still looked pretty good. I don't know what it is that's making us fat over here – maybe it's the preservatives.
So what's next for you?
Next we're working on a Kickstarter for a movie about veterans [Thunder Road, about a soldier returning home to the US and suffering from post-traumatic stress disorder]. That will be rolling by the time this goes out. I'll probably do some more races and I'm going to learn capoeira. It looks like it covers everything – core strength, acrobatics, fighting, dance. And it means I get to go to Brazil, which is great – I have a real affinity for South America right now.
Richard worked as a features writer in 2013 and 2014 for Men's Fitness UK, which predated and later shared a website with Coach. Richard went on to a career as a professional journalist and editor, working for brands like Red Bull, Total Film, Den of Geek and others.
Sign up for workout ideas, training advice, the latest gear and more.
Thank you for signing up to Coach. You will receive a verification email shortly.
There was a problem. Please refresh the page and try again.