Alex Honnold's Climbing Tips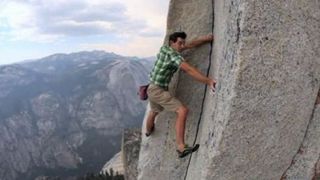 (Image credit: unknown)
What he does
As a child, American climber Alex Honnold used to terrify his mother by clambering on top of the fridge. Now he amazes the world with his adventures in big wall free solo climbing, a pure yet dangerous discipline that involves climbing colossal rock faces without ropes or a partner.
Honnold's daredevil brand of climbing involves completing unique physical challenges in iconic locations around the world. He has numerous speed records and last June completed 'the Triple' by free soloing the three biggest walls in Yosemite National Park – the 3,000ft (915m) El Capitan and the 2,000ft (610m)Mount Watkins and Half Dome – in a record 18hr 50min. He forgot his chalk bag, lost his footing 20 times and endured an insect attack, but still completed 95% of the route without ropes.
'It's important to me to be pushing my own boundaries,' says Honnold, who lives in a Ford Econoline van so he can sleep near to climbing hotspots. 'Sometimes that means a speed record, but often it just means climbing somewhere I've never been before.' Training vanquishes any fear. 'An elite marathon runner knows they can run a marathon without getting too tired. It's the same for me. You train beforehand and then you perform.'
How he does it
When you spend your days hanging off cliffs, muscular weakness and poor balance are potentially fatal flaws, so Honnold maintains a high level of strength, stamina and core strength. He'll then adapt his focus according to his latest project. 'For bouldering, you need strong fingers and arms. For speed records, you need iron legs and amazing lungs,' he says.
For strength and muscular balance he performs press-ups and planks, plus hanging leg lifts to work his core. His stamina is derived from running, skiing, cycling and, above all, by speed-soloing easy routes. 'It's like running up a 1,000ft [300m] hill, but using your hands as well,' he says. 'I hike really fast every day just to get to a climb anyway, so I always have a base level of fitness.'
Fitness is the foundation of his extraordinary climbing speed. 'I don't actually climb fast, I just don't get tired and slow down,' he says. But nothing beats climbing itself. 'So much is about skill, body position and balance. If you want to be good at climbing, you have to climb a lot.'
Coach is the place to come for all your health, fitness, and personal wellness needs.
Sign up for workout ideas, training advice, the latest gear and more.
Thank you for signing up to Coach. You will receive a verification email shortly.
There was a problem. Please refresh the page and try again.