Ryan Gosling's abs workout
By Coach Staff last updated
Actor Ryan Gosling built fighting strength and a rock-hard six-pack to play a Thai boxer in Only God Forgives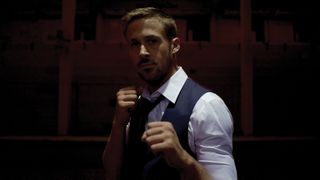 (Image credit: Unknown)
Few actors have been able to nail the contrasting roles of Hollywood heartthrob and arthouse icon with as much success as Ryan Gosling. Since landing his breakthrough role in smash-hit chick flick The Notebook nearly a decade ago, the chiselled Canadian star has repeatedly proven he's got the talent and star power to back up his abs.
In addition to scoring mainstream hits alongside fellow A-listers George Clooney and Mark Wahlberg in The Ides Of March and Gangster Squad, Gosling has garnered critical acclaim for his performances in gritty indie flicks such as Blue Valentine and Drive, not to mention earning a Best Actor Oscar nomination for his portrayal of a drug-addicted school teacher in Half Nelson in 2007. His refusal to be typecast has allowed him to repeatedly take on new and challenging roles, and his latest film, the Thailand-set revenge drama Only God Forgives, is no exception.
In the driving seat
Working for a second time with Drive director Nicolas Winding Refn, Gosling plays Julian, an American immigrant who runs a Thai boxing club in Bangkok as a front for a drugs operation. The role required Gosling to go on a crash course in Thai boxing, to ensure he could hold his own in the fight scenes.
'It was vital that Ryan was able to look and act the part of a Thai boxer,' says Winding Refn, 'because he had to fight for real. It wasn't full impact, but there had to be impact, because we shot everything in widescreen so we couldn't hide anything or edit things out of the scene.'
The situation was further complicated by Gosling's late arrival. 'Originally, there was another actor who was set to play Julian, but he dropped out fairly close to the production date, meaning Ryan only had a month to train in Muay Thai,' says Winding Refn. 'So it definitely helped he was in such great shape already.'
The man charged with getting Gosling up to speed was veteran Muay Thai coach Vohn Thonaphan. 'Ryan trained for two to three hours a day, three to four days a week before shooting began,' says Thonaphan. 'Luckily he was already quite fit and a fast learner.'
Repeat performance
The sessions began with plenty of old-school Muay Thai strength and conditioning – performing endless reps of classic bodyweight exercises to build functional strength and muscle endurance. 'We would pick eight exercises, such as chin-ups and press-ups, that work different muscle groups across the body and perform them in order, like a fighting sequence,' says Thonaphan. 'In total, we'd aim for three sets of 20 reps for each exercise.'
After conditioning, the next step was to teach Gosling the art form itself. 'We taught Ryan a mixture of traditional Muay Boran and contemporary Muay Thai,' says Thonaphan. 'In Muay Thai, you can throw punches, kicks, elbows and knees, so we had to teach him how to perform all these techniques correctly before we could show him how to apply them in a fight.'
This meant plenty of pad work and stretching. 'Muay Thai requires a lot of flexibility, especially when you're throwing kicks,' says Thonaphan. 'Most Thai boxers start training at a young age when it's easier to stretch your muscles. Once you reach your 20s it becomes a lot harder, and it was definitely one of things that Ryan found most difficult.'
Final fight
With the production date fast approaching, Gosling progressed from hitting pads to live sparring. It proved to be tougher than expected. 'Muay Thai is extremely brutal,' says Winding Refn, 'and Ryan was black, blue and yellow after sparring, which I think kind of surprised him.'
But the actor's dedication paid off when shooting the film's key fight scene. 'When we got to that point, Ryan was used to it, so he said, "Let's just beat the shit out of me", which was fine by me,' says Winding Refn with a smile. The result is an epic showdown of beautifully choreographed brutality, which also earned an approving nod from Thonaphan. 'Ryan did really well,' he says. 'It's a credit to his fitness levels, as well as the discipline and concentration he put into learning Muay Thai.'
The result is a film about men elbowing each other in the face that, thanks to Gosling's presence, your significant other will want to see too. Although to prepare for the inevitable comparisons between your abs and Gosling's, you might want to try his workout.
1. Knee strike bridge
Lie on your back with one foot on the ground and the other in the air.
Using the grounded foot, press into the floor and lift your hips, driving your airborne knee as high as possible.
2. Crunch and punch
Start in a crunch position with your hands by your chin.
Throw a punch towards the opposite knee. Keep punching while holding the position for a time.
3. Abs scissor
Lie on your back with your hands behind your head.
Lift both feet into the air, keeping your legs straight. Kick one high and the other low, alternating with every rep. Don't let your feet touch the floor until you're done.
Coach is the place to come for all your health, fitness, and personal wellness needs.
Sign up for workout ideas, training advice, the latest gear and more.
Thank you for signing up to Coach. You will receive a verification email shortly.
There was a problem. Please refresh the page and try again.