Tom Cruise Oblivion workout
By Coach Staff last updated
Get yourself into action hero shape with the workout Tom Cruise used for his new movie Oblivion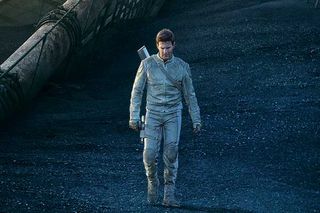 (Image credit: Unknown)
Tom Cruise is famous for always being in great shape and doing his own stunts, so it's no surprise to hear that he got himself in peak condition to play the role of Jack Harper in his new movie, sci-fi action flick Oblivion.

The film is set on a spectacular future Earth, and Cruise's Harper is one of the last few drone repairmen stationed on the ground as part of a massive operation to extract vital resources after decades of war with a terrifying threat known as the Scavs.

Harper's task is to patrol the skies, but his soaring existence is brought crashing down when he rescues a beautiful stranger from a downed spacecraft. Her arrival triggers a chain of events that forces him to question everything he thinks he knows.

'The fate of humanity is in Harper's hands,' says trainer Tom Dyer, 'and a character like that has to be prepared for anything, with fast reactions, considerable strength and a lean physique.' This workout will help you to develop all these qualities and get in shape like Cruise in Oblivion.
Tom Cruise's Oblivion workout
Warm-up
30sec high knees
30sec heel touches
30sec star jumps
Repeat

10x bodyweight squats
10x alternate lunges
10x toe touches
10x press-ups
10x walkouts

Metabolic conditioning circuit
10x deadlifts (tempo 3010)
10x dumbbell squat presses (tempo 3010)
10x chin-ups (tempo 3010)
10x back squats (tempo 4010)
Perform these moves back to back in order with minimal rest between movements.
'Rest for two minutes, then repeat three to five times depending on your fitness and conditioning levels,' says Dyer. 'This circuit is very stressful when performed correctly and will work every muscle in the body, including the heart. If your fitness levels are very high – or if, like Harper, you need to save the world – try incorporating this metabolic finisher at the end of the workout:

Metabolic finisher
20x jumping lunges (10 each side)
12x Spider-Man press-ups (6 per side)
12x TRX inverted rows
15x kettlebell swings

Perform these moves back to back in order with no rest between movements. Rest for 60 seconds and repeat two or three times. The total workout time should be no longer than 45 minutes.

Oblivion is released in cinemas nationwide on 10th April

Tom Dyer is a body transformation specialist who has helped many people of different fitness levels reach their fat loss and conditioning goals. He is the co-owner of Ultimate City Fitness, based in Liverpool Street, London. For more information on training packages and other services available at the gym visit ultimatecityfitness.com (opens in new tab). Follow Dyer on Twitter: @SmartHealthTomD (opens in new tab)
Coach is the place to come for all your health, fitness, and personal wellness needs.
Sign up for workout ideas, training advice, the latest gear and more.
Thank you for signing up to Coach. You will receive a verification email shortly.
There was a problem. Please refresh the page and try again.