James McAvoy workout
By Coach Staff published
In Wanted, James McAvoy was ripped without being too big. His trainer Glenn Chapman spills the beans on how he got him there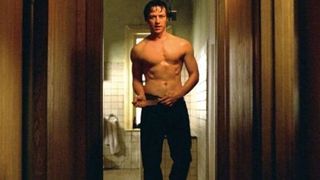 (Image credit: Unknown)
In This Series
'James McAvoy wanted to be defined but not too big when he played Wesley Gibson, the main character in Wanted – he's naturally pretty slim anyway, so I just needed to bulk him up a bit,' says personal trainer Glenn Chapman. 'We knew there would be a lot of sprinting in the film, so we did a lot of sprint intervals, usually 20 seconds at a time. We also did a lot of full-body moves – deadlifts, bent-over rows, chin-ups – and before key scenes like the shower scene, James would do press-up intervals to make sure he looked big. I have a 12-week blueprint that's about getting actors healthy and rested, using controlled rest intervals, and what I did worked. James looked great and did a great job.'
On the right you'll find a workout you can use to get a body like James McAvoy. The workout consists of three circuits. Warm up by running for ten minutes on the treadmill. Do the first five minutes at 25 per cent of your max speed, the second five at 50 per cent. Run through each circuit with as little rest between exercises as you can handle, then have a two-minute break before starting the next circuit.

Have a day's rest, then hit the gym again. Do the same warm-up and the same sprint intervals but replace the deadlifts with snatch-grip deadlifts (opens in new tab), the bent-over rows with bent-over flyes (opens in new tab) and the chin-ups with hammer-grip chin-ups (opens in new tab). For the press-up intervals, do a press-up and hold for one second at the lowest point, another press-up and hold for two, another press-up and hold for three, carrying on all the way up to a tenth press-up, where you'll hold for ten seconds.
Take another day off then it's back to the gym for the third and final James McAvoy workout of the week. This time you'll repeat the workout on the right. Following this routine for 12 weeks will help you get a body like the Wanted star's.
For more celebrity workouts, subscribe to the Men's Fitness. We'll give you three issues for £1 (opens in new tab).
Coach is the place to come for all your health, fitness, and personal wellness needs.
Sign up for workout ideas, training advice, the latest gear and more.
Thank you for signing up to Coach. You will receive a verification email shortly.
There was a problem. Please refresh the page and try again.