Jean-Claude van Damme Expendables 2 interview
By Sam Razvi last updated
From faded eighties icon to The Expendables' new nemesis. MF charts the unlikely resurrection of Jean-Claude van Damme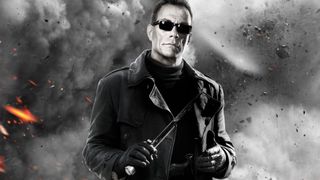 (Image credit: unknown)
'Adversity helps everybody,' says Jean-Claude van Damme – and he should know. After years in the wilderness, the splits-performing, spin-kicking legend is back on top, starring opposite Sylvester Stallone as lead bad guy Jean Vilain in The Expendables 2 amid the greatest line-up of action stars ever assembled. Against all the odds, the 51-year-old Van Damme has dragged one of the craziest careers in Hollywood back on track, and got himself in amazing shape doing it. MF caught up with the 'Muscles from Brussels' to find out where it all went right.
Starting small
Van Damme grew up in the 1960s in a sleepy suburb on the outskirts of Brussels. There was little about his childhood to suggest he would grow up to be the self-professed Fred Astaire of karate. 'It was tough growing up,' he says. 'I was kind of geeky, and physically I was not gifted.' The turning point came when, at the age of ten, his father enrolled him at the local shotokan karate school.

Over the next ten years, he improved rapidly, regularly competing in semi-contact karate tournaments. By his early twenties, Van Damme had earned his shotokan black belt, represented Belgium at the 1979 European Championships and compiled an 18-1 record as a professional kickboxer, all under his birth name of Van Varenberg. He'd also started lifting weights to improve his physique, a project that culminated with him winning a national bodybuilding title.

Looking back, he says, it was his lack of natural athleticism that motivated him. 'As a kid, I was skinny and I wasn't very flexible,' he says, 'so I had to work hard to get to where I am today. I believe that it helped to make me more determined to become the man that I am.'
Box office gold
In 1982, Van Damme moved to LA to seek fame and fortune as a martial-arts movie star. Again, adversity wasn't far away. With little money and speaking virtually no English, Van Damme toiled for a couple of years in low-paid jobs before eventually landing his first credited film role, as the minor character 'Gay Karate Man' in the unspectacular 1984 feature Monaco Forever.

After this inauspicious start, Van Damme plugged away for a few more years, narrowly missing out on the title role opposite fellow Expendable Arnold Schwarzenegger in the 1987 action classic Predator. His next project, however, would finally see him crotch-punch his way to the big time. Opening in 1987, Bloodsport, the supposedly true story of a no-holds-barred fighting tournament called the Kumite, made eleven million dollars at the box office, and introduced Van Damme's trademark splits and spinning 360˚ heel kick to an American audience.

A youthful Scott Adkins, who appears as Van Damme's henchman Hector in The Expendables 2, was blown away. 'I was a martial artist who loved Bruce Lee,' he says. 'When Bloodsport came out I watched it three times back to back. I couldn't believe the things Van Damme could do.' After the success of Bloodsport, Van Damme followed up with broken-glass-fisted epic Kickboxer, then stretched his acting muscles by playing two roles in Double Impact. Time-travel movie Timecop was his biggest commercial success to date, earning one hundred million dollars, while Universal Soldier (alongside future The Expendables 2 co-star Dolph Lundgren), Nowhere to Run and Maximum Risk were solid hits. Along the way, he made the fateful decision to play Colonel Guile in the movie adaptation of computer game Street Fighter – and adversity struck again.

Small screen
'For a while I was at the very top of the film industry,' says Van Damme of the straight-to-DVD decade following his Street Fighter panning, which saw him release the likes of The Hard Corps and Second In Command. 'I went all the way to the bottom, with films that nobody wanted to see.' Drawing inspiration from his childhood, Van Damme used his struggles as motivation to help turn things around. 'Looking back it was good to have these difficulties,' he says. 'The adversity helped me to become the man that I am today.'

Van Damme's road to redemption started with the most unlikely of films, 2008's JCVD. Playing a semi-fictionalised version of himself, he impressed critics and audiences as a down-on-his-luck actor caught up in a heist. After this mini-renaissance, Stallone offered Van Damme a role in the original Expendables.

Surprisingly, he turned it down. 'Stallone gave me a part,' he told a magazine at the time. 'But I ask him about the subject, about the story. He said, "You're gonna make lots of money". I don't want to hear that. I want to hear what was my character. He was unable to tell me what it's going to be.' Instead, he chose to further his return to prominence by participating in a number of quirky side projects, including a reality TV show based on his own life and adverts for Coors beer. Having re-established himself as a mainstream pop-culture icon, all that was missing was a big-screen return to his action-hero roots.
Return to the fold
Following the success of The Expendables, Stallone again approached Van Damme about starring in the sequel, alongside action luminary Chuck Norris and new kid on the block Liam Hemsworth. This time however, the role on offer was far meatier, lead antagonist Jean Vilain. 'It was a welcome change,' says Van Damme. 'A bad guy gave me the opportunity to push the envelope more in terms of being creative and to be crazier. Such a big film allowed me to show more acting, like in JCVD. I was trying to create a non-comical, more serious villain that could be believable. For me it was about being as real as possible. Sly liked that because he takes his work so seriously.'

The only problem was, at the age of 50, would he physically still be up to the task? 'When I came on the set, I am sad to say, I was not in shape,' says Van Damme. 'At the time I was travelling so much, which was very hard for me. But I did start to train right away because Sly basically said to me to build muscle and have arms, like, the size of trains.'
This included a weekly regime featuring three cardio sessions ('never for more than 45 minutes, as that would stop me from building muscle') and four weights sessions. Training alongside him during filming, Adkins noticed a theme in Van Damme's weights sessions. 'He actually tends not to train as heavy as you might think,' says Adkins. 'Instead, he works his muscles to exhaustion using lighter weights. He doesn't need to lift heavier weights, especially as he's getting older.'

Van Damme has another secret weapon in his arsenal – his own form of isometric training based on yoga moves. 'You can do this any place in the world with some very specific movements,' he says. 'It's the best training in the world. You can do it before you brush your teeth in morning and before you go to bed at night. You raise your heartbeat with no equipment needed. I do this anywhere – even if I am speaking to someone I'll do some training. It becomes natural.'
Wham bam
One advance warning: there won't be any outrageous displays of flexibility in the film. Awareness of his advancing years has forced Van Damme to train smart. 'As I've gotten older I've tried to balance my training a lot more,' he says. 'I try to take an intelligent approach, and learning from previous experiences to make sure I don't hurt my back or my legs, for example.' 
He makes sure he eats properly too. 'I don't believe in diets,' he explains. 'You need to give your body what it needs, which is a mixture of foods, but it must be balanced. It's important to know your own body.'

This approach to fitness proved crucial when it came to the action scenes, especially with the demands placed on him by his co-stars. 'Sly weighed 99kg for this film,' says Van Damme. 'He was going for it during the fight scenes too. I'm not saying he was throwing real shots, but he likes to make contact so everything looks real.'

With The Expendables 2 due for release this month, Van Damme is riding high again. As he speaks to MF, he's shooting additional scenes on a movie he's been working on for the past two years. 'I respect all forms of film,' he says. 'Now I feel that I am back. Because of The Expendables 2 I learned how to love film again.' With another four films in production, and an improbable return to the ring to face former Olympic boxing champion Somluck Kamsing in a Muay Thai match lined up for December, things couldn't be looking better.
Once all that's done, would he contemplate sailing off into the sunset and retiring as a vindicated actor and martial artist? 'No chance,' he says, 'After that I'll have big rest, repair my body, and then train some more.'
For more in-depth features like this, subscribe to MF - we'll give you five issues for £5. (opens in new tab)
Download a digital version of the latest issue from iTunes. (opens in new tab)

The sidekick speaks
With JCVD in charge, martial arts expert Scott Adkins takes on the heavy lifting as his chief henchman. He explains how he got in shape for the role.
Pump up the volume
'I did a four-day split of training,' says Adkins. 'Chest and arms one day, legs the next, back and shoulders and so on. I needed to put on a lot of muscle so I went for the tried-and-tested method of volume training. If you need to put muscle on then in my experience this type of training works best with three sets, maybe eight reps of each exercise.'

Hit the pads
'Making an action film you're pounding your body every day. You need to train a hell of a lot, especially to get used to the endurance side of it. You get ready for the abuse, basically. I do a lot of plyometrics with weights – squat jumps are really effective. But in terms of cardio, you can't beat doing pad work – there's nothing better than hitting something.'
Eat... and cheat
Adkins defies convention with his diet. 'For me it's not about having six meals a day. I'll have three,' he says. 'A big breakfast with carbs, then at lunch I'll lower the carbs and my evening meal will be smaller with no carbs at all. I enjoy the odd dessert and have one day off a week – when you can't indulge in the bad foods at all then you're likely to cave quicker.'
Sam Razvi wrote for Men's Fitness UK (which predated and then shared a website with Coach) between 2011 and 2016.
Sign up for workout ideas, training advice, the latest gear and more.
Thank you for signing up to Coach. You will receive a verification email shortly.
There was a problem. Please refresh the page and try again.