The Workout Plan Chris Hemsworth Used to Play Thor
By Joel Snape last updated
Follow Hollywood star Chris Hemsworth's Thor workout and get into godlike shape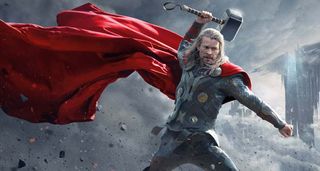 (Image credit: Unknown)
Like most young Australians, Chris Hemsworth grew up with sport and fitness as a major part of his life – he played Aussie rules football, until injury intervened, and surfed near his family home whenever he could. He'd always been fit, and his strong physical presence was obvious in early film roles like Star Trek and The Cabin In The Woods. But it was when he was cast as one of the Marvel Cinematic Universe's superheroes that he knew he had to take his body to the next level.
When Thor, the Norse god of thunder, was adopted as a Marvel Comics hero, the character's powers – aside from his immortality – were his superhuman strength, speed and durability. So making the leap from page to screen would require someone whose physique was more fitting of a deity than a mortal.
"In the comic strip Thor looks to be around 500lb [227kg], so obviously that wasn't my goal, but it was very important for me to look the part and be as powerful as strong as I could while still maintaining that element 
of agility," says Hemsworth.

To help him get into superhero shape, Hemsworth recruited the assistance of Michael Knight, director of Michigan-based personal trainers Art of Strength. "Chris's regime was split into two parts," says Knight. "The first was a bodybuilder-type protocol focused on high-weight, low-rep moves designed to pack on maximum size, while the second was total-body circuits designed to shift his excess fat while maintaining muscle."
RECOMMENDED: Henry Cavill's Workout Plan for Batman vs Superman
Hemsworth admits getting into superhero shape was hard work. "The kettlebell routines that Mike put me through were intense, partly because I'd never used them before but also because it's a heavy combination of cardio and weightlifting," says the 32-year-old former Home & Away star. "Most of my training previously was geared more around cardio – mainly boxing and Muay Thai, with some elements of weights. I hadn't experienced kettlebells, but it's a great way to build functional strength."
As if Hemsworth's training wasn't tough enough, he had to start the programme while filming another movie. "When I started working with Chris he was doing 12-hour days on the set of Red Dawn, but he still had the time and energy to train for between 60 and 90 minutes five days a week after his shooting commitments were over," says Knight. "Above all, he has an amazing work ethic, always pushing himself further and harder. It shows that if you're prepared to work hard you can get the results you've always wanted."
Hemsworth adds, "It was certainly exhausting at times, but I prefer to be training than not. It gives me more energy and I just generally feel better about myself. I feel like I've earned that beer at the end of the week."
RECOMMENDED: Hugh Jackman Workout: How He Got Ripped for Wolverine
When Hemsworth's in training to play the Norse god – sequel Thor: Ragnarok is in pre-production ahead of an autumn 2017 release – he has got back on a protein-heavy diet in order to regain his strong, bulky physique. "I basically overfeed on protein and endless amounts of chicken breast and steak and fish and vegetables and brown rice," says Hemsworth. If you follow a similarly strict diet and perform Hemsworth's workouts listed below, you too can have a body to rival that of a Greek god.
Chris Hemsworth's Thor Workout
Part 1: Eight-Week Bulking Plan
How to do it
Weeks 1 and 5: Sets 4 Reps 4-6
Weeks 2 and 6: Sets 4 Reps 6-8
Weeks 3 and 7: Sets 4 Reps 8-12
Weeks 4 and 8: Sets 4 Reps 4-6
Session 1: Chest and Back
Session 2: Legs
Session 3: Arms
Weighted chin-up
Close-grip bench press
Part 2: Four-Week Fat-Loss Plan
"Once Chris put on the muscle I needed to get him lean, which meant stripping away any fat he had accumulated during the first phase while maintaining all his newly built muscle," says Knight. "I did this by getting him to do this total-body circuit based around classic strongman moves, such as log presses, tyre flips, sledgehammers and prowler sprints, as well as circuits 
with kettlebells of varying weights. This got Chris down to his fighting weight of 220lb [100kg] – and as you can see from the pictures, it was all muscle."
Hemsworth adds that he kept a "very close eye" on his diet. "I was eating a lot of clean protein, fruit, vegetables and some carbs, as well as drinking four to five litres of water a day."
Circuit 1: Tabata 
(20 seconds on, 10 seconds off)
Double kettlebell squats, four rounds
Snatches, eight rounds
Circuit 2
Kettlebell swings: 30 seconds two-hand, 30 seconds right-hand-only swings, 30 seconds left-hand-only swings, 30 seconds 
alternate swings
Kettlebell cleans: 5 right, 5 left, 4 right, 4 left, 3 right, 3 left, 2 right, 2 left, 1 right, 1 left, then back up to 5 each side for a total of 60 reps with no rest
Circuit 3
RECOMMENDED: All Celebrity Workouts
From 2008 to 2018, Joel worked for Men's Fitness, which predated, and then shared a website with, Coach. Though he spent years running the hills of Bath, he's since ditched his trainers for a succession of Converse high-tops, since they're better suited to his love of pulling vans, lifting cars, and hefting logs in a succession of strongman competitions.
Sign up for workout ideas, training advice, the latest gear and more.
Thank you for signing up to Coach. You will receive a verification email shortly.
There was a problem. Please refresh the page and try again.