Get Ripped Triceps In Four Weeks
By Nick Hutchings last updated
Build stronger arms with our four-week triceps workout plan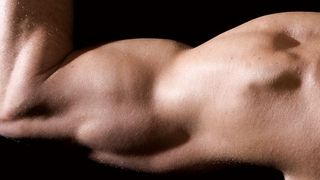 (Image credit: Unknown)
The biggest muscles in your arms aren't your biceps. Your triceps makes up two-thirds of the muscle mass in each, so you need to target them if you want to improve your performance in other upper-body exercises, such as the bench press. If you play a sport then you'll benefit from more power during throwing and pushing movements.
This six-move workout will help you get killer triceps. And here's all the information you need about when and how to do it, and what weights to use.
Timing Allow 45 minutes, including the warm-up.
Days Add this workout to your weightlifting regime by doing it once a week for four weeks.
Weights Select a weight that allows you to complete all the reps with perfect form. You should not reach failure before the last set of the last exercise. If you're having to move your upper arm around to control the weight, it's too heavy.
Warm-up Spend five minutes on a piece of cardio equipment and then do four sets of bodyweight exercises such as burpees.
Tempo Allow one second to lift the weight, pause at the top for one second, then take two to three seconds to lower. Each set should take 40-60 seconds.
Rest Rest for one minute between sets and two minutes between exercises.
Sets 2 Reps 10
Targets Chest, triceps
Why Bringing the hands together shifts effort to the triceps
How Place your hands flat with forefingers and thumbs touching to form a diamond. Lower your chest as far as you can.
Sets 2 Reps 10
Targets Triceps
Why Target the triceps effectively with a heavy weight
How Keep your upper arms still as you lower and lift the weight. Brace your core to avoid arching backwards.
3 Medicine ball wall pass
Sets 2 Reps 10
Targets Chest, triceps
Why Work your chest and triceps explosively for a compound training effect
How Pass the ball away from you without leaning into the move. Keep your arms high on your chest and hands behind the ball for each pass.
4 Reverse grip press-down
Sets 2 Reps 10
Targets Triceps
Why This focuses the effort on the lateral head at the back of your arm
How Use an underhand grip. Keep your elbows by your sides as you press the bar down.
5 Two-arm dumbbell kick-back
Sets 2 Reps 10
Targets Triceps, core
Why Your core has to stabilise the move while your triceps provides the power
How Lean forward at the hips, keeping your back straight. Keep your upper arms in line with your torso.
6 One-arm press-down
Sets 2 Reps 8 each side
Targets Triceps
Why Finally, isolate each arm to maximise muscle exhaustion
How Keep your body upright to avoid using your bodyweight to initiate the move. Start with your weaker arm.
Nick Hutchings worked for Men's Fitness UK, which predated, and then shared a website with, Coach. Nick worked as digital editor from 2008 to 2011, head of content until 2014, and finally editor-in-chief until 2015.
Sign up for workout ideas, training advice, the latest gear and more.
Thank you for signing up to Coach. You will receive a verification email shortly.
There was a problem. Please refresh the page and try again.