3-step abs - ball/bell/bench combo
By Coach Staff published
If you want a rock-hard six-pack, break out this old-school gymkit and get stuck into these taxing moves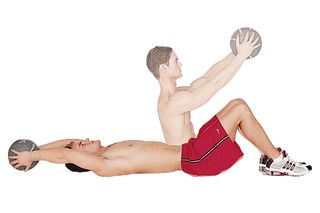 (Image credit: unknown)
Medicine ball curl up
Sets: 3 Reps: 10
The medicine ball adds resistance to fatigue your muscles. Holding it above your head increases the lever length, which also makes the exercise harder.
Curl up slowly without throwing your shoulders forwards.
Lower your torso under control and maintain tension in your abs.
Gym ball dumb-bell Russian twist
Sets: 3 Reps: 8 each side
The dumb-bell works your side abs as your core fights to stabilise your body on the insecure platform of the gym ball
Don't let your core collapse or your lower back round as you rotate.
Avoid bouncing up from the ball as you lower.
Decline sit-ups
Sets: 3 Reps: 12
Doing this bodyweight exercise quickly will exhaust the abs fully and safely without you having to use added resistance at the end of the workout.
Crunch up without pulling on your head or neck.
Don't over-extend your lower back on the way down.
Coach is the place to come for all your health, fitness, and personal wellness needs.
Sign up for workout ideas, training advice, the latest gear and more.
Thank you for signing up to Coach. You will receive a verification email shortly.
There was a problem. Please refresh the page and try again.