3-step abs
By Coach Staff published
Three moves that will work your abs from different angles to give you a solid six-pack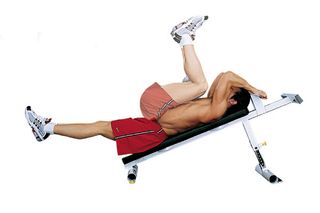 (Image credit: unknown)
Check out all the other abs workouts (opens in new tab) we've devised to help you get a ripped midsection.
Incline knee raises
Sets: 3 Reps: 10
Lifting your legs up an incline increases the time that your lower abs are under tension for an improved training effect.
Lock your arms into place and avoid pulling on them as you lift your legs.
Lower your legs slowly but stop them before they cause your lower back to arch.
Decline sit-ups
Sets: 3 Reps: 10
The decline bench moves your centre of gravity so that your abs have to work harder to crunch your torso upright, placing more tension in your upper abs.
Engage your abs to crunch up and avoid pressing your ankles into the bar.
Keep your shoulder blades together and don't roll your shoulders forwards.
Gym ball leg scissors
Sets: 3 Reps: 8 each side
Holding the gym ball up calls on your abs, while rotating them recruits your side abs to power the move.
Lift the ball off the floor using your abs and keep your core braced.
Slowly rotate to one side and then the other by engaging your side abs.
Coach is the place to come for all your health, fitness, and personal wellness needs.
Sign up for workout ideas, training advice, the latest gear and more.
Thank you for signing up to Coach. You will receive a verification email shortly.
There was a problem. Please refresh the page and try again.