Celebrate Valentine's Day With A Simple Couples Yoga Routine
By Nick Harris-Fry published
Get up close and personal with this easy four-move sequence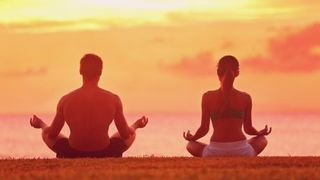 (Image credit: Unknown)
If you follow the well-trodden path, Valentine's Day can be a horrendously cliché-ridden affair – an evening of strained conversation in a packed restaurant where chancers try and sell you mangy roses for a fiver a pop.
So this year why not think outside the box when looking for activities to do with your significant other? If you want to connect with your partner in an entirely novel way this Valentine's Day, try this quick and easy yoga sequence created by Yogi2Me (opens in new tab) teachers Sarah and Nick.
1. Sit in cross-legged position back to back. Here, just try to connect by acknowledging where on your spine you're in contact with one another and feeling the breath flowing along both of your spines.
2. Extend your arms and connect palms with thumb pointing up. Twist to the right bending the left arm to open the chest while keeping your arms and shoulder high. Rotate from the root of your spine to the crown of your head. Repeat on the left side.
3. Unfold your legs and sit with knees bent so your feet are flat on the ground. Interlace your elbows and use your feet to press into your partner's lower back/tailbone. Do this a couple of times, then try to push all the way up to standing.
4. Once you're up, connect sacrum to sacrum (that's the large triangular bone at the base of your spine). Raise your hands in prayer to the sky and ask your partner to grab your wrists and fold forwards from the hips while lifting your body. Enjoy a nice backbend!
Yogi2Me is an app that allows you to book fully-qualified yoga teachers for sessions at your home, office, hotel or anywhere you like. Available in the App Store (opens in new tab) or visit yogi2me.com (opens in new tab)
RECOMMENDED: "Guys Who Do Weights Or Run – Yoga Changes Their Lives"
Sign up for workout ideas, training advice, the latest gear and more.
Thank you for signing up to Coach. You will receive a verification email shortly.
There was a problem. Please refresh the page and try again.