The World's Fittest CrossFit Women Pick Their Favourites
By Joel Snape last updated
We asked five women competing in the 2013 Reebok CrossFit Games for their favourite WODs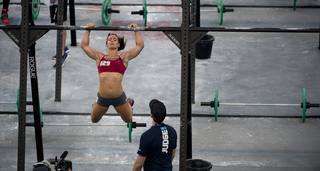 (Image credit: Unknown)
No matter how hard and often you train, you're unlikely to be able to keep up with the best CrossFit athletes. We caught up with five of the toughest women from the 2013 Reebok Crossfit Games to ask for their favourite 'WODs', or Workouts Of The Day – usually short-but-brutal against-the-clock challenges that allow you to compare your scores with people around the globe. Take them on: if you dare.
Sam Briggs, Overall Winner
WOD: Nasty Girls
3 rounds for time of:
50 squats
7 muscle-ups
10 60kg hang power cleans
"My favourite metcons tend to mix an Olympic lift with a gymnastic movement," says Briggs. "If I had to choose a favourite then Nasty Girls always springs to mind! I think benchmark WODs are a good indicator of how much you've improved but you wouldn't want to just focus on one or two as you would simply just get better at those."
This is a toughie - if you can't do a single muscle-up, sub in two pull-ups and two dips for each rep.
Stacie Tovar
WOD: Murph
1.6km run
100 pull-ups
200 press-ups
300 squats
1.6km run
"CrossFit Hero WODs are my favorite. They are workouts dedicated to service men and women who have fallen in the line of duty. The sacrifices that these men and women make inspire to me and motivate me to push myself harder. Hero WODs are generally very tough because they are in memory of someone."
A signature example is 'Murph', named after Navy Lieutenant Michael Murphy, killed in Afghanistan in 2005. Split up the pull-ups, press-ups and squats as needed - rounds of ten, 20 and 30 are a good idea.
Camille LeBlanc-Bazinet
WOD: Amanda
Three rounds (9, 7 and 5 reps) for time of:
Muscle-up
60kg squat snatch
"This is by far my favourite workout. It requires so much skill and the only way to be successful in this workout is to have a perfect harmony between technique and intensity. If you start too fast without the right technique you are going to hit a wall and at the opposite if you start too slow you won't give 100%."
Christy Phillips
WOD: The Toughest 2.4k
Run five distances, each for time, resting for 2 minutes between each run.
"Some of the worst, most gut-wrenching conditioning workouts I've ever done are single modality intervals," says Phillips. "This workout is scored by all five times, so there are plenty of places to improve."
From 2008 to 2018, Joel worked for Men's Fitness, which predated, and then shared a website with, Coach. Though he spent years running the hills of Bath, he's since ditched his trainers for a succession of Converse high-tops, since they're better suited to his love of pulling vans, lifting cars, and hefting logs in a succession of strongman competitions.
Sign up for workout ideas, training advice, the latest gear and more.
Thank you for signing up to Coach. You will receive a verification email shortly.
There was a problem. Please refresh the page and try again.