How To Do The Explosive Bench Press
By Coach Staff last updated
Put some oomph into your game with this power-building move from pacey England winger Paul Sackey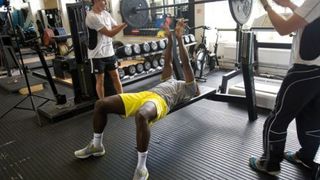 (Image credit: unknown)
Stacking on the weight plates during your rugby workouts will build muscle, but that's not enough if you want athletic power and speed too. "My trainer tells me you get your speed in the weights room and your power and technique from the track," says England rugby player Paul Sackey, "so I lift slightly lighter weights explosively."
But it's not enough to choose any old power move. "We've developed the explosive bench press to do a rugby-specific job," Sackey says. "Once you've built up your muscle mass on the bench press you can train the fast-twitch fibres with this move to give you the explosive power to burst through tackles. Just make sure that you have a training partner on hand to spot you when you do them."
Vary your workouts by including the overhead medicine ball throw, below, another rugby-specific exercise that will help you build more explosive power.
How To Do The Explosive Bench Press
Sets 4 Reps 5
Lower the bar as far as you can, keeping it straight.
Explosively drive the bar upwards, letting it leave your hands.
Use a pair of spotters to control the bar after you let go of it.
---
Overhead medicine ball throw
Sets 3 Reps 8
This move hits the posterior chain of muscles that run all the way from your calves to your upper back. It's a great rugby-specific exercise that will help everywhere from tackles to the line-out.
Squat holding the ball and keeping your lower back flat.
Drive up with your legs at the same time as throwing your arms up.
Put your whole body into the throw so that you're at full extension at the top of the move.
---
More About Rugby Training
Coach is the place to come for all your health, fitness, and personal wellness needs.
Sign up for workout ideas, training advice, the latest gear and more.
Thank you for signing up to Coach. You will receive a verification email shortly.
There was a problem. Please refresh the page and try again.